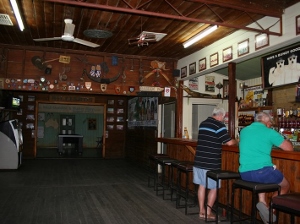 The Walkabout Creek Hotel at McKinlay, in Northern Queensland, has been sold by Paul Collins to Frank and Debbie Wust, who plan to maintain the hotel's iconic status. Mr Collins had owned the hotel for 28 years.
The c1900 Walkabout Creek Hotel – orginally called Federal Hotel – featured in the movies on Crocodile Dundee and is said to be where the original Mick Dundee drank. It was sold after the first movie was made for $290,000 and is now well decorated with Paul Hogan memorabilia.
Mr Wust assured fans of the Crocodile Dundee movies they would continue to be welcome at the hotel.
The hotel has 18 rooms, and there is a caravan park with 30 powered and unpowered sites included in the sale, as well as two residential houses. It was shifted from its original location about 20 years ago after the redirection of the Matilda Highway.
"The pub was renovated at the time, however the character depicted in the Crocodile Dundee movie was maintained," said sales agent, Nathan Henderson, Raine and Horne Ingham and Beaches.