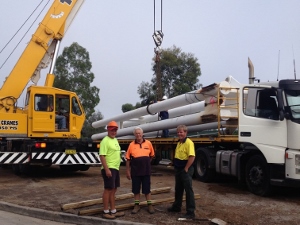 As the Sydney Convention & Exhibition Centre was being razed to the ground, four of the pylons used in its construction were being saved by property developer Jerry Schwartz for use in his newest venture – the $4 million Hunter Valley Conference & Events Centre.
The pylons were loaded on to trucks as the bulldozers took SCEC apart and were then transported up to the site of the Hunter Valley Conference & Events Centre adjacent to the Crowne Plaza Hunter Valley at Lovedale.
The original length of the pylons was over 20m high, but these were reduced to 14m to fit into the architectural specifications of the new Hunter Valley Conference & Events Centre. The pylons will be placed at each corner of the new building and have a horizontal truss that is connected to the building using the original metal ties.
The new centre – which will be NSW's largest north of Sydney – is scheduled for completion by November and will play a major role in providing alternative events and conference space while the replacement for SCEC is built over the next three years. "Sydney Convention & Exhibition Centre has played such an enormous role in the development of Sydney's – and NSW's – tourism sector, contributing hundreds of millions of dollars to the state's economy, so I thought we should preserve at least a part of the heritage and use it to build the new venue in the Hunter," said Jerry Schwartz, director of the Schwartz Family Company.
"While our Hunter Valley venue won't be as large as SCEC, it will be a sizeable venue and will add a new dimension to the Hunter's tourism infrastructure. We will commemorate the pylons' heritage with a plaque and a story telling of their origin. It will add real substance to the new building, while also highlighting the value and benefit of recycling," said Dr Schwartz.
Built overlooking garden spaces within Crowne Plaza Hunter Valley, the centre will have a combined 2012m² of pre-function, meeting, exhibition and convention space; each with their own separate access, spaces and natural light. The centre will comprise three conference rooms ranging from 380 m² – 400 m² that can be used as one ballroom for up to 1000 people or a mix of rooms with flexible acoustic folding walls. All conference rooms feature skylights that give a distinct feel for its Hunter Valley location.
The Hunter Valley Conference & Events Centre is part of a more extensive upgrading and expansion of the facilities offered at the Crowne Plaza Hunter Valley, designed to provide a comprehensive one-stop-shot venue for conference and event organisers targeting the Hunter Valley.