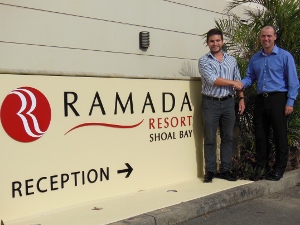 The former Shoal Bay Resort & Spa has officially joined Wyndham Hotel Group's expanding portfolio of properties in the South Pacific region, officially rebranding to Ramada Resort Shoal Bay last week.
In addition to the acquisition of the accommodation management rights, Wyndham has contracted to acquire 34 apartments at Ramada Resort Shoal Bay. The apartments will be transferred into its vacation ownership club, WorldMark South Pacific Club by Wyndham for use by its 47,000 plus vacation owners.
Barry Robinson, CEO of Wyndham Vacation Resorts Asia Pacific, has confirmed Ramada Resort Shoal Bay will operate as a mixed–use property offering resort accommodation to both vacation owners and Ramada resort guests. The property is owned by developer, Jay McPhee. Resort Management by Wyndham is managing the accommodation; while the McPhee Group will manage the bars, restaurants and conference centre. The day spa is leased to Lattouf Hair & Day Spa.
"Shoal Bay is one of Australia's most beautiful beach destinations, and is within easy driving distance of Sydney, one of the world's greatest cities. We are thrilled to have partnered with Jay McPhee to bring our signature Count On Me! customer service to the region, and to do so in such a remarkable and rare beachfront setting," said Barry Robinson.
Situated on 2.2ha overlooking the beach, the resort has more than 200 luxurious self-contained apartments, villas and suites overlooking the waters of Shoal Bay on the New South Wales mid-north coast. It also has four restaurants, five bars, three swimming pools, a convention centre for conferences and events, plus the Lattouf Hair and Day Spa, which features three Thalassotherapy mineral spa pools. The resort is located just two hours' drive from Sydney, or 30 minutes from Newcastle airport.
The announcement of timeshare accommodation at the resort could provide a substantial boost to the local economy, according to a recent report from the Australian Timeshare Holiday Ownership Council.
The Economic Contribution of Australian Time share and Holiday Ownership Industry – 2012 report revealed Australian timeshare resorts achieve an impressive 90.4 per cent occupancy in 2012, compared to all hotels and resorts who had average occupancies of 70.9 per cent.