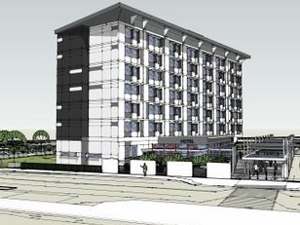 Mackay Airport is to get a 152-room hotel as part of the airport's $900 million redevelopment.
North Queensland Airports CEO Kevin Brown said the hotel is the first of several major construction projects planned at Mackay Airport.
"NQA is ready to invest in this exciting Mackay Airport hotel project which has already received state government development approval. The hotel project, plus the associated development of airport infrastructure surrounding it, will represent an investment by NQA of around $30 million."
Construction of the hotel will require changes to the carport layout but an all-weather covered central walkway spine will be included as part of the whole hotel, terminal and car park precinct redevelopment.