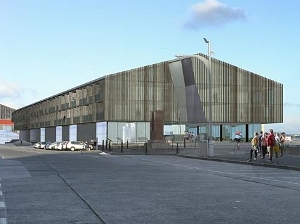 Tasmania's Federal Group has been appointed by Vos Group to operate a new, 113-room, $35 million hotel on Hobart's waterfront.
Construction company Vos Group will build and run the hotel on the site of Macquarie No 1 shed.
Vos Group executive chairman Michael Vos said, "The team that created the highly successful Henry Jones complex has been re-formed to undertake the Macquarie Wharf No 1 redevelopment. It comprises Circa Morris-Nunn Architects, Stanton Management Group and Vos Construction and Joinery P/L
"The project involves building a luxury hotel of up to 110 rooms together with 3000m² of retail space incorporating restaurants, cafés, provedores, galleries, etc."
Professor Morris-Nunn says the hotel will take in some of Hobart's best waterfront views. "Hobart has needed a major new hotel for a very considerable period of time," he said. "There will be some very, very beautiful spaces inside."
The new hotel is set to open in October next year.