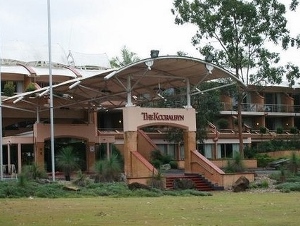 In a major tourism boost for the Scenic Rim region of Queensland, Yong Real Estate group founder Peter Huang has purchased the Kooralbyn resort, which went into receivership in 2008.
Mr Huang plans to inject millions of dollars to transform it into a integrated eco-tourism and health retreat beginning with a major $10 million upgrade of its golf course that could be ready late this month. The resort will be branded as the Ramada Kooralbyn Resort and be run by the Wyndam Hotel Group.
Mr Huang has announced plans to transform the Kooralbyn resort – built by Peter Abels and George Arthurs in 1973 – into an integrated eco-tourism retreat with up to 70 different recreational activities incorporating skydiving, hot air ballooning, gliding, charter flights through the resort's private airport as well as sheep shearing displays, gold panning, the Garden of Eden incorporating a vineyard, flower farm, fruit farm, vegetable farm and a native Australian animal experience including koalas, kangaroos, crocodiles and native birds.