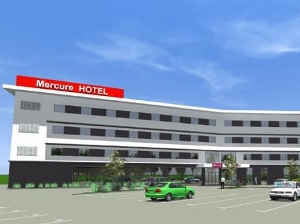 Construction is due to begin today on Newcastle's airport hotel.
The $18million, four-storey Mercure Newcastle Airport Hotel being built by Hunter firm GWH Build with partner partner Hilton Grugeon, on the corner of Nelson Bay Rd and Williamtown Drive and should be finished a year from now.
Newcastle Airport Hotel consortium chairman Geoff Barnett says, "The vision of Hilton Grugeon and Port Stephens Council on rezoning this land for this hotel highlights their commitment to making this airport a huge success."
Accor Pacific chief operating officer Simon McGrath says it will be the 40th Mercure hotel in Australia.