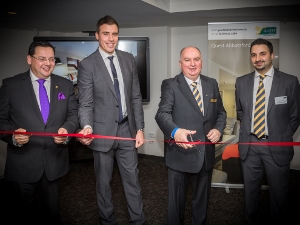 Parliamentary secretary to the premier and state member for the Northern Metropolitan Region, Craig Ondarchie officially opened the highly anticipated Quest Abbotsford in the City of Yarra on 3 June.
Quest CEO, Zed Sanjana and Abbotsford franchisee, Paul Murphy joined Mr Ondarchie to celebrate the grand opening of the latest addition to the Quest Serviced Apartment network. Guests were invited to tour the brand new apartments and facilities, and were delighted to hear from Richmond AFL club legend and strong supporter of the City of Yarra community, Matthew Richo Richardson.
Mr Ondarchie highlighted the suitability of the new Quest property, given the significant growth experienced by the City of Yarra over the past decade. Now one of Melbourne's most desirable areas, business is thriving and employment is booming in Abbotsford, Richmond and surrounding suburbs.
"The City of Yarra is one of Melbourne's key business centres and is continuing to develop at an extraordinary rate, with over 8700 businesses currently providing more than 57,000 jobs," said Mr Ondarchie. "The Victorian government is very pleased that Quest Serviced Apartments is making this investment to offer a quality accommodation option for the increasing number of corporate travellers visiting the area."
The brand new Quest property features 93 studio, one, two and three bedroom serviced apartments and is located just 4.5km north-east of the Melbourne CBD at 611 Victoria Street, Abbotsford. The serviced apartments feature kitchen and laundry facilities, wi-fi access, multi-unit desk chargers, and traditional Quest services such as local restaurant chargeback, pantry shopping, dry cleaning and babysitting booking. In addition, the property offers conference facilities, car parking, a swimming pool and a gymnasium.
In addition to Quest Abbotsford, a further seven Quest properties will open this year – King William South (SA) in July, and Berrimah (NT) and Woolloongabba (QLD) in September, followed by Wellington (New Zealand), Newcastle West (NSW), Melbourne Airport (VIC) and Townsville (QLD).