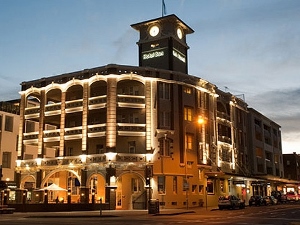 The historic 1919 Hotel Bondi has been put up for sale by the family of the late hotelier, Cyril Maloney who had owned it for 44 years. The price tag is expected to be about $40 million.
Hotel Bondi is a four-level hotel with 37 en suite hotel rooms, bar, gaming room with 30 gaming machine entitlements, bottleshop and 12 car spaces on Campbell Parade, and was extensively renovated at a cost of $6 million
Jones Lang Lasalle has been appointed exclusive agent to offer the hotel for sale – with vacant possession – by an international expressions of interest campaign closing September 2.
JLL Capital Markets director – Investment Sales, James Aroney, said the hotel is strategically situated next to the soon-to-be-completed Pacific Bondi Beach, a luxury apartment / boutique hotel and hospitality development, and only metres from the recently opened Toga Group's Boheme Bondi Beach luxury apartments and Adina Hotel complex.
Jones Lang LaSalle's national director investment sales, hotels and hospitality group, John Musca, said the site was considered the "jewel" property of Campbell Parade.