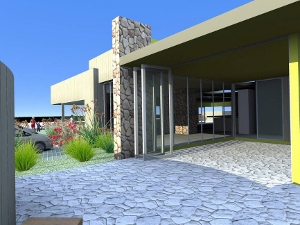 A multi-million-dollar motel in Peterborough in Victoria has been approved after objectors lost a tribunal case to stop the project.
Work on the 36-room motel is expected to begin in the next six months and is expected to be open by Christmas 2015.
Victorian Civil and Administrative Tribunal upheld Moyne Shire's decision to approve the $9 million project the Great Ocean Road, saying the project ticked the planning boxes.
Developer Peter Hunt is hoping to use the motel, which includes restaurant, pool and gym, to attract conferences, weddings and Great Ocean Road tourists.
Project designer Dean Picken said the motel's 36 rooms will be spread across three two- storey "pod" buildings while the restaurant will be licensed for up to 155 people.
Objectors said the motel was out of character with the township, didn't comply with zoning and would obstruct coastal views. Owners of the nearby Schomberg Inn Hotel also argued the motel risked over-developing the town.