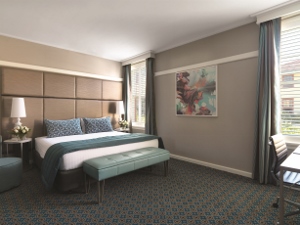 Set to reopen its doors this December, historic Hotel Kurrajong Canberra is taking guests back to a better era this summer.
Currently undergoing a significant renovation, the iconic boutique heritage-listed hotel is conveniently located in Canberra's parliamentary precinct and surrounded by the city's attractions and business district. For 11 years, including his time in office in the 1940s, post-war prime minister Ben Chifley called the hotel his home. He preferred its comfortable, down-to-earth confines to that other well-known local accommodation, The Lodge.
Rachel Argaman, CEO of TFE Hotels, said, "The light on the hill has been relit! We look forward to reopening the doors of the famed Hotel Kurrajong Canberra, a classic and classy hotel, located right on parliament's doorstep.
"Our guests want more than just a bed, and at Hotel Kurrajong they will experience a piece of the capital's history, with the hotel having enjoyed a long association with key Australian political and architectural figures."
The restored Hotel Kurrajong Canberra will retain many of its finest historic architectural features including pavilions, deep verandahs and radiating courtyards. The hotel's sophisticated design and chic furnishings pay homage to its notable origins and design by the commonwealth's chief architect John Smith Murdoch in 1926; who was also responsible for the design of Old Parliament House.
Hotel Kurrajong is co-owned by TFE Hotels and the National Roads & Motorist's Association.
The 147 room hotel will comprise 26 heritage listed rooms, four executive suites, four balconies and eight terrace rooms. The hotel's lovely garden setting was established by Thomas Charles Weston, then the superintendent of parks and gardens in Canberra. Most of his original plantings remain.