Developments
Bureaucrats may not meet casino takeover deadline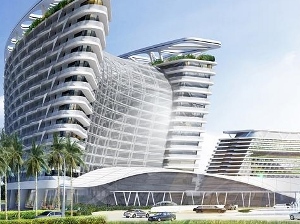 Hong Kong billionaire Tony Fung's $276 million takeover of the Reef Hotel Casino in Cairns may be put in jeopardy after Office of Liquor and Gaming Regulation does not think it can meet the 28 November deadline to complete a probity investigation. And this could also put the massive $18.5 billion Aquis project on the line.
Office of Liquor and Gaming Regulation commissioner David Ford admits the deadline would be difficult to meet. "They [Mr Fung and Aquis] were made aware of the difficulties this date would impose on the probity process and the very real risk that the process, and the necessary government approvals, would not be able to be completed by this date," he said.
OLGR has had since 5 March to complete the probity investigation.
Mr Fung said he would seriously reconsider further investment in the Yorkeys Knob project if OLGR cannot give approval by the end of November as he intends to float both as one entity on the Hong Kong Stock Exchange in 2016 to raise capital for the resort but needs a full 12-month trading period before listing.
Mayor Bob Manning has called for urgent crisis talks in Brisbane between Aquis and state government officials. He said, "Delays are clearly starting to have an effect, with questions now being asked about whether the takeover of the Reef Hotel Casino and ultimately the $8 billion Aquis resort will go ahead."
Mr Ford stressed, "Although significant progress has been made in the investigation, important financial information, including issues around its equity funding and future cash flows, remains outstanding from Aquis. In addition, discussions with the Queensland Police Service and, through them with international policing agencies, to finalise consideration of the reputation and criminal history of Aquis and its associates are yet to be finalised.
"The OLGR is well aware of the need for a timely response in a commercial transaction such as this and will continue to engage with Aquis to finalise the matter as quickly as possible."