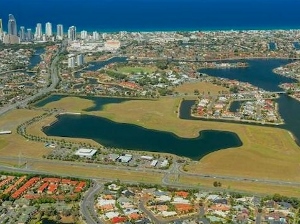 Gold Coast developer Sunland has paid $61 million to the Scheinberg family for the 42ha Lakeview site on the corner of Bermuda St and Nerang-Broadbeach Rd at Mermaid Waters.
Sunland, developer of the Q1 supertower and Palazzo Versace hotel, is understood to have beat off a number of Asian rivals for the sought-after property. Sunland managing director Sahba Abedian said he regarded the purchase as one of the most significant acquisitions in the group's 30-year history of development.
The Scheinberg family's Mermaid Waters parcel is held via Leslie Corporation and was acquired 42 years ago as part of a 202ha dairy farm buyout negotiated by Gold Coast real estate identity, Max Christmas. It features a man-made lake at its centre and has a preliminary approval in place for an integrated mixed-use project comprising 1425 apartments and 37 waterfront residential lots. Approved building heights range from three to 10 storeys, also with an opportunity to develop a commercial/retail component of up to 24,000m².
Mr Abedian said the project, to be delivered in stages, is expected to be launched in 2015.