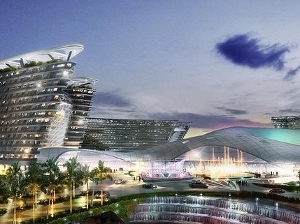 The proposed $8 billion Aquis casino resort in far north Queensland has been shelved by Hong Kong billionaire Tony Fung because of a stalled probity investigation into the venture.
Mr Fung had made a $276 million takeover offer for the Reef Casino Trust — that included the Cairns and Canberra casinos — in a bid to secure the casino ¬license for the Aquis resort at Yorkey's Knob north of Cairns.
However the acquisiton of the ailing Canberra casino owned by Casinos Austria will go ahead but the sale price has dropped from $9 million to $6 million.
While Aquis has met Foreign Investment Review Board and Australian Consumer and Competition Commission approvals, it still has to meet other conditions such as state and territory casino and liquor licensing approvals. Queensland Office of Liquor and Gaming Regulation commissioner David Ford told Aquis that probity investigations will not be completed by the 28 November deadline, leaving the lucrative offer for the trust to lapse.
The news of the delay for the Queensland developments sent RCT shares plummeting. Should the Yorkey's Knob development – said to be Australia's biggest non-resources project – not go ahead, it would be a major blow to the economy of far north Queensland. The project would have delivered 7500 hotel rooms to the region as well as an extensive market link with South East Asia.
According to the Office of Liquor and Gaming Regulation, the Hong Kong-based developer had failed to provide information repeatedly requested by them about the financial backing for the takeover bid. Tony Fung's Aquis Casino Acquisitions had offered $217 million to buy Reef Casino Trust that owns the Reef Hotel Casino complex in Cairns from Casinos Austria.
"To date, important information remains outstanding from Aquis. The monetary value is of significance to the OLGR given the investigation must consider the financial viability of the applicant. The probity investigation is in its final stages and Aquis has been made aware of the outstanding matters to bring the investigation to a conclusion," Mr Ford said.
Aquis was seeking to fund the $8.15 billion resort by floating the company on the Hong Kong stock exchange in 2016. Under the Hong Kong stock exchange rules, Mr Fung needed to have owned and operated the trust for 12 months before he could float the company.
The offer expires on Friday 28th November and Aquis will not extend it. However Aquis said it was still committed to being a major investor in Cairns and far north Queensland and was continuing its work in progressing the resort development at Yorkeys Knob.