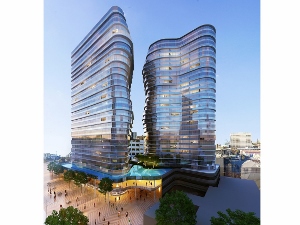 A 9340m² development site in Brisbane's Chinatown Mall is on the market consisting of of mixed use buildings across two land parcels on prominent street frontages of Brunswick and Duncan streets.
Marketing agent Colliers International said, "The Valley Heart Portfolio offers the flexibility to hold the properties as an investment with future development upside or immediately commence the development process while enjoying significant holding income."
The Valley Heart Portfolio is zoned for development up to 30 storeys and architects Nettletontribe has already designed an 840 apartment complex.
"A high-rise development on the Chinatown land parcel would enjoy spectacular views of the Brisbane CBD skyline, the Brisbane River and the surrounding suburbs of Newstead and New Farm," Colliers said.
Jason Lynch, director of capital markets and investment services at Colliers International said the portfolio's secure income stream comes from the existing office, hotel and retail tenant covenants in addition to a 464 bay public car park that delivers strong trading figures.
Mr Lynch said the Brisbane City Council has already granted a development approval for a four star hotel. Terms have been agreed with an international hotel brand to take up occupancy.
The portfolio is being offered for sale by expressions of interest closing at on 12 November.