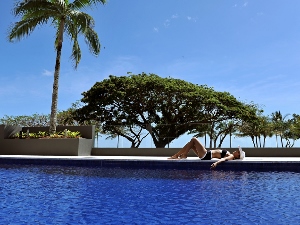 To maximise summer fun for sunseekers, the Mercure Cairns Harbourside has completed an extensive $2 million pool and al fresco dining redevelopment ahead of the holiday season.
Mercure Cairns Harbourside's general manager, Paul Morton says, "We have designed the area in a clever way so that the pool and restaurant interact seamlessly with the Cairns Esplanade, creating a waterfront ambiance and a wonderful feeling of absolute freedom. A key element is the pool's glass fencing panels that provide an infinity edge with uninterrupted views to the Coral Sea."
In terms of design, the look is modern, fresh and inviting with the new pool and spa comprising electric blue ceramic tiles that are a perfect foil to cool marble surrounds, lush native plants in raised garden beds and the tropical palms.
Mr Morton said the collection of stunning poolside furniture, including items by French designer Philippe Starck, provides an unexpected touch of futuristic luxury to poolside relaxation. "It really gives a chic, inner-city vibe that is beautifully counterbalanced by the rich heritage of Western Australian marble that we used poolside dating back 2.2 billion years."
Facilities at a glance
• Multi-level swimming pool and spa and dining area developed at a cost of $2 million.
• Poolside furniture by French designer, Philippe Starck
• Landscape design by Cairns' award-winning landscape architect, Andrew Prowse
• Hotel featuring the city's only disabled pool access lift
• The Esplanade Dining comprises Blue Mango Café Wine Bar and Teshi's Restaurant that that offer an attractive setting for lunch and dinner and cocktails