Developments
Wyndham opens flagship property in Melbourne's CBD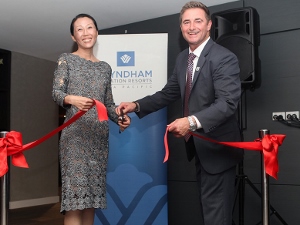 Wyndham Hotel Group, the world's largest hotel company with approximately 7590 hotels and part of Wyndham Worldwide Corporation, has officially opened its flagship Melbourne development, Wyndham Hotel Melbourne, becoming the company's first hotel in the city.
Centrally located in Melbourne's central business district on the corner of William St and Little Bourke St, the much-anticipated high-rise complex boasts 531 apartments across two towers and comprises hotel accommodation, vacation ownership, residential apartments and a retail precinct.
Wyndham Hotel Melbourne operates as a mixed-use property, providing accommodation for both Wyndham Hotel Group guests and vacation owners with 86 apartments through WorldMark South Pacific Club by Wyndham.
Barry Robinson, president and managing director of Wyndham, said "Wyndham Hotel Melbourne reflects the vibrancy and sophistication this cosmopolitan city is renowned for and we look forward to offering guests and more than 49,000 vacation owners the exceptional service and product for which the Wyndham brand is known around the world."
The 23 and 21-storey towers were designed by Melbourne-based Bruce Henderson Architects and feature stylish one- and two-bedroom apartments as well as three-bedroom Grand and Presidential Suites that boast added luxuries such as built-in fireplaces, wine refrigerators and outdoor lounge and dining areas. The transformation of the building includes a new façade and upgraded building services as well as significant environmental initiatives such as rooftop solar panels, rainwater reuse in bathrooms and double-glazed doors and windows to reduce noise and increase energy efficiency.
The property was developed by Hengyi Australia, an affiliate of Shandong HYI (Group) Co. Ltd., an award-winning residential and commercial developer based in China. "Wyndham Hotel Melbourne makes a major architectural contribution to the streetscape in this part of the CBD and is a long-awaited upgrade of what was once an abandoned building," said Stephen Speer, head of marketing and business development at Hengyi. "It is a great commercial success for Hengyi and an opportunity to establish our reputation in Melbourne. Furthermore, the project has given us the opportunity to work with Wyndham, a company that shares similar values to Hengyi, and we will no doubt go on to partner with them on many more opportunities around Australia."