Developments
Eclipse to eclipse Adelaide's tallest apartments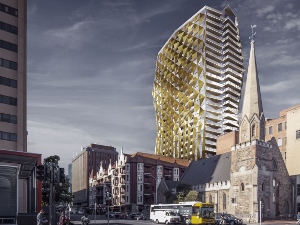 The new $100 million, 29-storey state of the art Eclipse is set to become Adelaide's tallest residential building, set on the northern edge of Rundle Mall.
South Australia's Development Assessment Commission is currently assessing the application.
A Sydney-based consortium hopes, subject to approvals, to start construction in 2016 on the 272 apartment block that will tower 94m above the city on a 1536m² site bordering Austin Street and Porters Lane. The project includes the transformation of the Renaissance Arcade into a retail and commercial hub across two levels and construction of a residential tower rising 29 storeys high.
Project director Jonathan McKenzie said Eclipse would include 272 apartments, comprising 56 one-bedroom apartments, 164 two-bedroom apartments and 52 three-bedroom apartments designed by architecture firm Elenberg Fraser.
The consortium comprises Garry Parker, Peter Sprowles, Paul Smith and Jonathan McKenzie.
Mr McKenzie said Eclipse would emerge as a dynamic and vibrant addition to the Adelaide CBD. "Eclipse is a powerful symbol about the opportunities that lie within the Adelaide Central Business District," Mr McKenzie said. "The fundamentals that govern growth prospects in Adelaide, particularly in the City Centre Precinct, are compelling and include a reform of planning laws, the removal of height limit restrictions and increased infrastructure spending on projects such as Adelaide Oval."