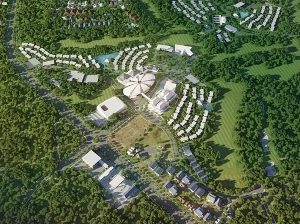 Construction on the first stage of the $550 million five-star Dusit Thani international resort complex overlooking the existing Greg Norman-designed Brookwater golf course is expected to start within weeks after the GCCC approved the $110 million first phase.
The first stage of the Dusit Thani Brookwater Golf & Spa Resort is expected to open in mid to late 2016. It will have 168 resort apartments, central resort facilities including lobby, lounges, business centre and meeting rooms, ballroom, day spa, restaurants and retail tenancies, indoor and outdoor recreational and leisure facilities, as well as recreation clubs and a wedding chapel.
On completion Brookwater Golf and Spa Resort will have 520 residential resort apartments along with world-class facilities including a boutique cinema, luxury day spa, an aquatic and fitness centre with a 50m Olympic sized pool and crèche, pro-shop, café and crèche, tennis courts, water park, and lagoon pool.
The resort will also develop a 3000m² convention centre.
The Dusit Thani Brookwater Golf & Spa Resort is one of the largest foreign investment resort in Australian history and is backed by Hong Kong fund manager Maxsen Capital.
Chanin Donavanik, chief executive officer of Dusit International said, "We are very proud of our company heritage; of exporting the very best of Thai culture to different areas of the world including Nairobi, California and the Maldives. Our brand of gracious hospitality has been well-received the world over and we hope the Australian community will also embrace our unique offering.
"This resort is the perfect opportunity for Dusit to make its entry into this new market and it represents a significant point in the company's development. We are confident that alongside our partners World Group UK and Maxsen Capital, the Dusit Thani Brookwater Golf & Spa Resort will add even more value to this growing community of families, professionals and individuals seeking the very best in residential and leisure services in Australia."