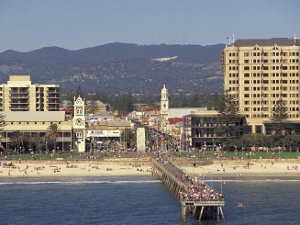 The iconic but run down Glenelg jetty is to be brought back to its original "glory" in plans to be released within weeks.
The multi-million dollar proposal would include a boutique hotel a public pavilion and possibly a marine research centre.
Holdfast Bay councillors were given a preview of the plans, that have largely been inspired by the original jetty, by consultant Mott MacDonald last week.
The original jetty, built in the 1850s, was destroyed by a storm in April, 1948. the 215m jetty that stands today was built in 1969.
Mayor Stephen Paterson said "We're trying to make a really unique place to visit, not just in Adelaide, but in Australia."