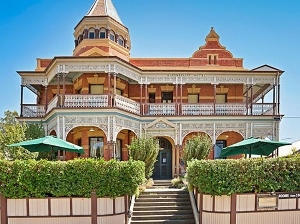 The Queenscliff Hotel on Port Phillip Bay has been relisted for sale.
The striking 1887 Queen Anne-style building has 16 rooms with en suites, sitting rooms, library, bar and dining room and a breakfast room. There is also a manager's residence.
Abercromby's are selling the property on a walk-in, walk-out basis at its 20 March auction and their expectations are for a $3.5 million plus sale.
Queenscliff Hotel is still taking guests, but the restaurant is no longer operating following the death of owner Johann Schuetz.
The 1887 built Queenscliff Hotel on the western tip of Port Phillip bay was designed by Melbourne architects Reed, Henderson & Smart. It was built by NW Frogley in the English Queen Anne style for Martha Nugent and Joseph Goslin, wealthy local citizens at the time.
The Schuetz family acquired the property in 2002 from restaurateur Patricia O'Donnell, sister of the late Mietta O'Donnell, who ran the hotel as a fine dining hotel for a number of years. The hotel was first restored for modern use in 1978.
Queenscliff became a significant tourist destination in the late 19th century with holiday-makers taking a two hour paddle steamer journey from Melbourne.