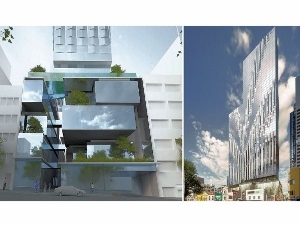 A 211m high complex with more than 1000 new dwellings in Melbourne's CBD has been approved by Victoria's new planning minister, Richard Wynne.
The approved development at 380 Lonsdale Street consists of two large towers rising 51 levels and 67 storeys. Expected to cost $240.5 million, the Elenberg Fraser-designed project will have 440 two-bedroom apartments, 288 one-bedroom apartments and 312 hotel rooms.
The 3162m² site with an ageing car park and office building was bought in late 2013 by a subsidiary of Singaporean developer Hiap Hoe for $43.8 million.