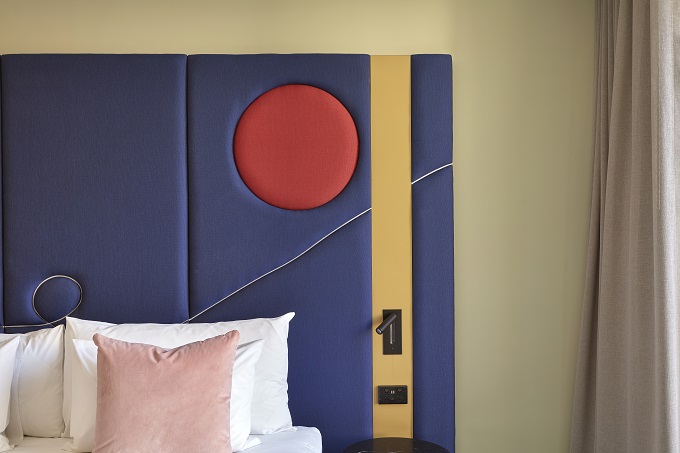 Industry
News In Brief
First Quincy Hotel in Australia opens in Melbourne
Have a "Colourful Stay" in the new Quincy Melbourne
TFE Hotels team at the brand-new and exotically colourful Quincy Hotel Melbourne make it their business and pleasure to know the ins and outs of guests long before check-in.
"We call it anticipatory hospitality," explains Quincy Melbourne Hotel General Manager, Christian Price, of a bold new precedent set by the 'Aussie metamorphosis' of Far East Hospitality's quirky-cool brand, out of Singapore.
Rolling out a vibrant, red carpet welcome to the most curious of social urbanites on Flinders Lane in the nation's hip-and-happening capital, Christian says what sets Quincy Melbourne apart as 'an experiential hotel like no other' is delightfully two-fold.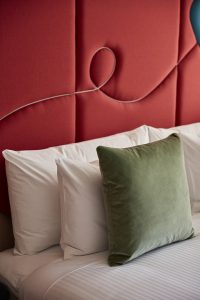 The 241-room boutique property punches well above its weight in the upper midscale hotel category and raises the bar on accessible high-end luxe. Unabashedly it's celebrating 'individuality' and treating every guest like a VIP in the delivery of surprisingly bespoke service before demand.
Christian says it is a 'labour of love that ultimately guides 'Q-uration' of unique guest 'perks', covering everything from DIY bubble tea kits to tickets held for 'must experience' festivals and events. Not forgetting 'in the know' after parties.
He says: "We want to know what makes our guests tick long before they walk through our doors, providing VVIP service minus the fuss or over-the-top fanfare," said Christian, who wants guests to feel instantly at home. Welcomed 'like close friends'.
"It's why we say, 'Make yourself at Quincy'! You be 'you'. We want everyone to enjoy themselves and truly be themselves, which brightens our day.
"Then, because we know and celebrate each guest's personality and individuality, we create little moments where they go 'yep, that's exactly what I wanted without having to ask!'."
Guests will experience surprise moments like arrival cocktails that supersede check-in, complimentary 'pillow menus' tailored to individual tastes, minibars stocked with kombucha, fresh coconut water and dried Queensland mango, in-room kids' games or 'adult' cooking and cocktail classes, and pop-up hallway tables laden with 'help yourself' cocktails or mocktails to brighten every day. Even 'take home' gourmet dog treats for guests' 'best friends'!
True to brand, Quincy Melbourne's 241 rooms have their own personalities. Boldly colour-blocked and blessed with floor-to-ceiling views, they go by the names Celestial (standard rooms), Caledonian (deluxe rooms) and Hosier (club rooms and suites).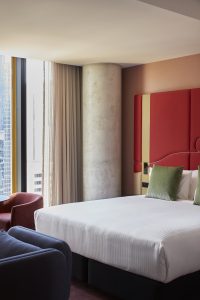 Proving walls really do talk, each style tells the story of a famous Melbourne laneway. Celestial rooms pay homage to the arrival of Melbourne's first Asian immigrants in the mid-19th century; Caledonian rooms revel in colourful music heritage (including birth of St Jerome's Laneway festival); while Hosier rooms need little introduction, named after Melbourne's most Insta-worthy laneway (home to street art that won a Lonely Planet poll as Australia's top cultural attraction in 2008).
"It's hard to miss," joked Christian, referring to the hotel's vibrant fusion of 'best of' Aussie lifestyle with the exotic sights, sounds and flavours of Southeast Asia.
Best described as an experiential nirvana, Quincy Hotels Australia's debut property promises an extraordinary escape from the everyday, teleporting all who enter to an exciting new world, full of colour and spice, without needing to leave one of the world's most celebrated cities.
Shaking up an upbeat and offbeat blend of experiences, the striking 29-storey, glass-fronted hotel – complete with lively laneway and rooftop bars – purposely invites meaningful connection at every touch point, via thoughtful spatial design, playful interiors, tactile artwork, and an extraordinary focus on 'out-of-the-ordinary' foodie adventures.
Think, hawker-inspired grazing at SingSong eatery, flowing through the Lobby to outdoor laneway dining; zesty rooftop bites and cocktails with 360-degree views of Melbourne CBD at The Q Bar on Level 28 (shared by a glistening lap pool); and, for the pièce de resistance, the Salted Egg, a wow-factor satellite restaurant, peppered with a bespoke bar and communal areas, spanning the whole of Level 1.
Christian says: "We want to make Quincy Melbourne a fun experience, where no two days – or stays – are ever the same. Like an entertainment complex with rooms attached!"
Image Credits: Images supplied