5 Tips for selecting outdoor fabric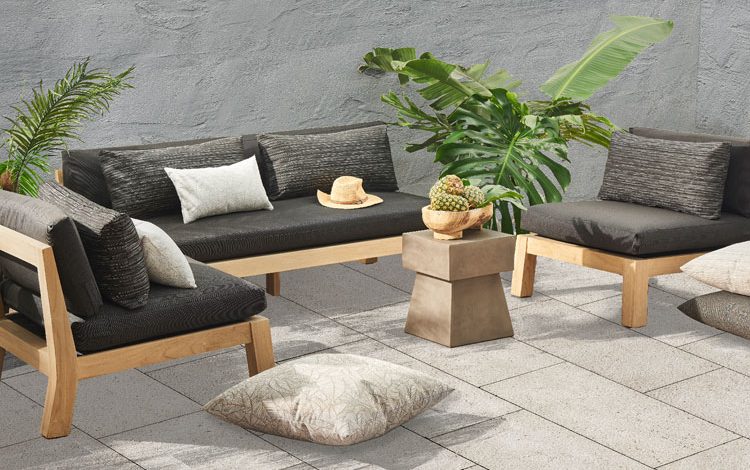 When it comes to selecting suitable fabric for your accommodation's outdoor space, know that not all outdoor fabrics are created equally! Make sure they are specifically designed for outdoor application.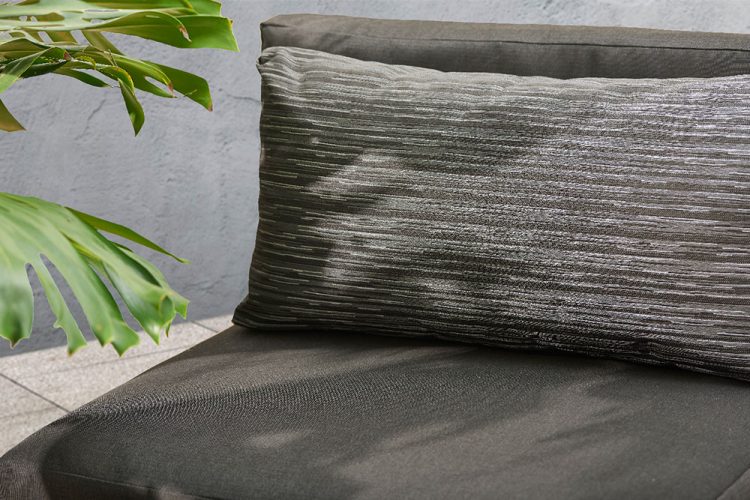 Here are five tips for selecting the right materials…
There are a few fibre types to look out for that are designed specifically for outdoor use. Solution dyed acrylic (Sunbrella) and solution dyed polyolefin give good UV outcomes.
Some fabrics have a full waterproof barrier as opposed to only a water repellent finish, so make sure you check the specification closely or ask your supplier.
Note the abrasion rate of the fabric. There are two standard tests for woven upholstery abrasion resistance, also known as the rub rate: Martindale and Wyzenbeek. Both involve testing equipment which simulate the natural wear of a seat cover, culminating in a number of 'rubs.' The higher the number, the more resistant the material is to abrasion.
If you are creating all the cushions and bolsters, then using the correct foam is essential. The images in this article feature cushions made with DRICELL foam, made and upholstered by The Foam Booth who can make any custom size or shape for your project.
Once you are certain you are working with a quality outdoor fabric and foam, consider the type of use for the outdoor furniture being used. Make sensible choices for colour or pattern by using darker or more forgiving fabric for the seating element where there is the potential of staining. 
The new IN/OUT outdoor fabric range from Materialised meets all these requirements, and more!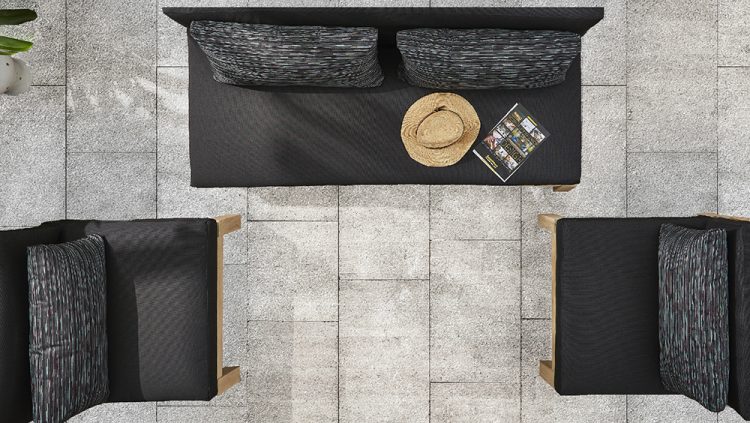 The collection is woven in Australia using 100% polypropylene (a polyolefin), providing the UV requirements necessary for outdoors. It has a full waterproof backing, delivering total water barrier.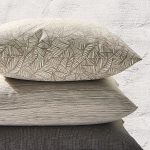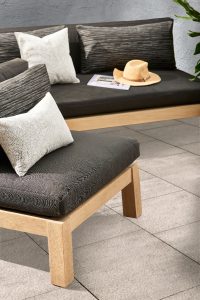 OEKO-TEX Certified yarn ensures a global standard has been met with the fabric tested and certified to be free from harmful levels of more than 100 substances known to be harmful to human health.
It is also finished in Australia with a mill applied Fresche antimicrobial finish. This finish "locks and bonds" to treated textiles and fibres, where it delivers continuing, broad spectrum bacterial, fungal, mould and odour control. As Fresche is not consumed by the disinfection process, it delivers continuing, safe, durable, high-performance microbial protection of the treated textile.
With three designs in a selection of colourways, the IN/OUT collection has been carefully considered to work together coherently and to pair with Vista and Seachange outdoor faux leathers.
Low maintenance, durability and style in one!

To see the collection and order sampling visit materialised.com