Learn how Samsung can modernise your hotel to provide a seamless and personalised experience for every guest.
CONNECTED GUEST EXPERIENCE
Expedite and simplify your guest's check-in process
Fresh off the plane, guests can quickly check in from the taxi on the way to the hotel through an app on their Mobile Device. Check-in information will be immediately sent to the phone, after which it can be conveniently used as a digital room key. Guests just simply have to tap their phone against the Smart Door Lock to open their room door. It also means they can skip the queue at the check-in desk—just what they need after a long flight.
AUGMENTED AMENITIES
Revamp the lobby with digital technology to intuitively promote your amenities
First impressions count. Captivate your guests the moment they enter the lobby with a spectacular Video Wall to create a memorable first impression. Not only will the visually stunning displays attract guests with vibrant images, when coupled with the MagicInfo solution they can inform your guests about limited-time promotions on hotel amenities. Before taking the lift to their room, guests can use any of the Interactive Information Kiosks installed throughout the hotel to search for hotel information on interactive touchscreens.
OPTIMISED HOTEL OPERATIONS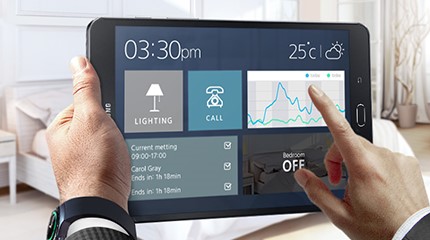 Empower your hotel staff with mobile devices for seamless communication
To guarantee that your guests' experience remains outstanding, it is vital to be able to respond to all of their needs in real-time. By connecting all hotel staff with Mobile and Wearable Devices, you can empower hotel employees to provide high-quality service and streamline operations across hotel facilities at the same time. Connected staff can communicate with one another seamlessly for efficient guest management and receive instant schedule updates for better housekeeping and maintenance. A secure and stable Smart WLAN solution ensures smooth device interaction and efficient communication throughout the facility.