Custom Fabric for Historic Hotel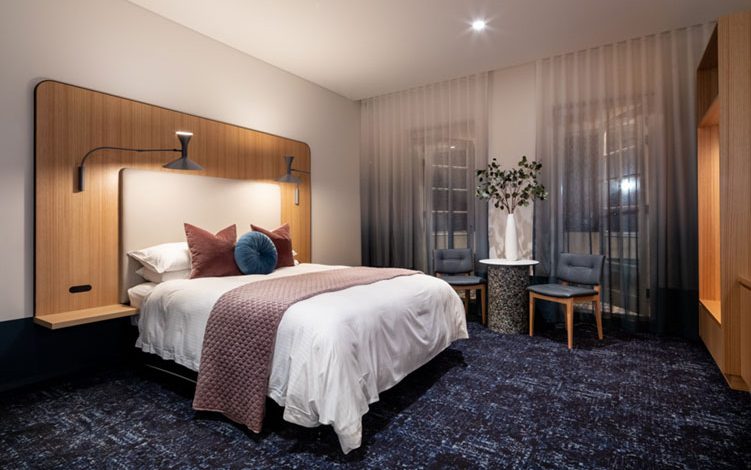 Designed by Architect Sidney Warden (1890-1959) and built in 1932, The General Gordon Hotel in Sydenham has historical and heritage-listed significance. A true classic at the heart of the Australian Art Deco pub design phenomenon.
Destroyed by fire during a renovation in 2018, the new hotel refurbishment, completed in March 2021, was undertaken by multi-disciplinary architectural firm Anthony Vavayis Architects.
It was JDA Hotel's vision to rebuild this iconic pub to respect the original fabric of the building and to create a dynamic venue for social and community interaction and entertainment. The historical narrative of the establishment is reflected in the material selections whilst also considering suitability.
For the custom-designed, Australian made bar furniture by Identity Furniture, AVA sought inspiration from a traditional fabric and created a modern, fresh interpretation of this with a custom check of great scale, proportion, colour and sense of fun. Printed on waterproof, stain resistant, antimicrobial Crypton it has become one of the key elements in this venue and reflects the vibrancy of the project.
"Along with Materialised's amazing custom design opportunities, their fabric options are endless. We love how the Sina Pearson indoor/outdoor fabrics pop in the fresh alfresco space," says Ruth Harris, Interior Designer at AVA.
The restricted hotel bedroom dimensions led to a fun minimalist design approach with Serendip ombré sheer drapery adding a beautiful soft layer. A custom colour was developed for the gradient to work back with the carpet.
"Working with Materialised you have this amazing wealth of industry knowledge at the core of the collaboration", says Ruth. "Their creative, passionate and patient team are always able to push the boundaries and exceed expectations."
The sports bar, dining lounge, alfresco, gaming and accommodation rooms offer guests wonderfully eclectic, mixed-use spaces that will be especially relished in the release from lockdown.
If you're a designer, architect or specifier and based in Australia or New Zealand, click here to talk to us about current and upcoming releases.