It's time to claw back that lost commission…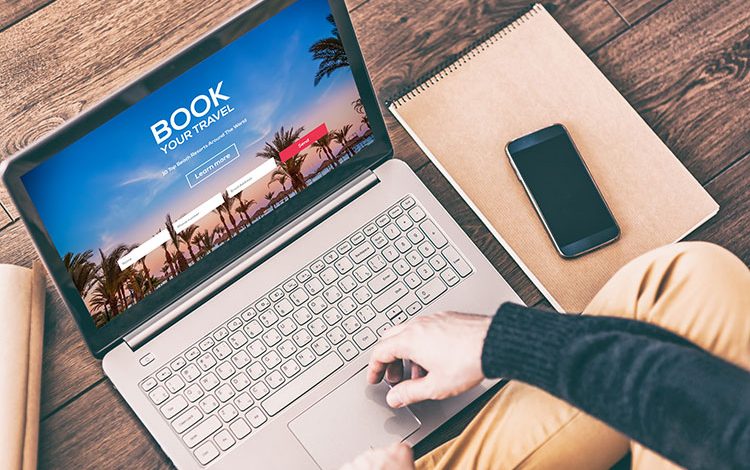 We hear from many properties on a daily basis that they're frustrated at the sheer amount of commission they pay out to OTA's such as Booking.com each and every month.
Despite their offers and incentives to entice guests to book direct through a variety of different means, they still end up with bookings through the OTA instead.
Why is this?
OTA's spend millions of dollars every month in online advertising and even have the gall to run ads directly against you using your property name keywords! This often results in them displaying above your own organic website listing in the search results, and most times with an ad written closely to resemble your property title and description.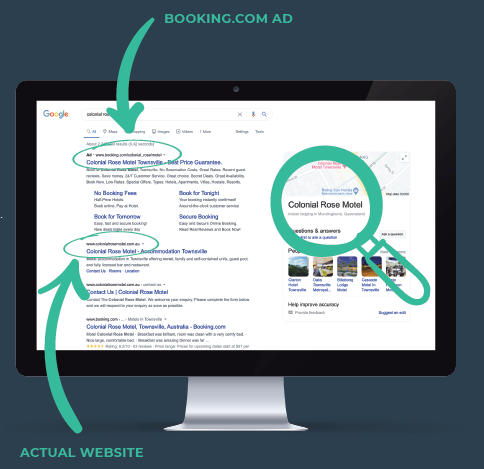 This creates a problem as potential guests searching for your property inadvertently end up on the OTA website instead, with the end result in many cases being a direct booking lost.
Don't be afraid to advertise directly against the main OTA's
Most accommodation providers we speak with say they feel it's worthless trying to advertise against the OTA's because they're just too big or they don't have the budget to compete with them.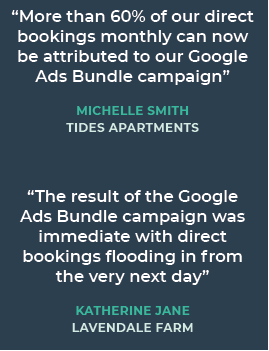 Maybe you've tried Google Ads in the past and haven't achieved great results, or your conversions weren't high enough, or your bid costs were through the roof? Sound familiar?
Well this is something we do very well and have been helping properties all over Australia achieve more direct bookings, make higher profits, and reduce their reliance on the OTA's through an effective Google Ads campaign we've quietly mastered over many years!
Our Google Ads Bundle campaign has been specifically developed to help saturate the market giving you maximum online exposure, far and above what the OTA's can achieve in comparison for your property.
Best of all the campaign is suitable for all accommodation types, and is results proven for hotels, motels, holiday apartments, caravan parks, bed & breakfasts and farm stays.
It costs less than you think to run an effective campaign, so if you'd like to claw back that lost commission why not give us a call today to discuss? CALL 1300 996 171 or visit www.onlinetourism.com.au