The good news? The tourism industry is booming.
Tourism Research Australia (TRA), part of Austrade, recently released a report on the Tourism and Hospitality Industry for 2015-16, which highlighted what many who work in the hospitality industry already knew, the industry is in a period of massive growth. International visitors are up 10% to 7.2million visitors, domestic trips accounted for 88.9 million overnight stays by Australian residents, and there are 249,131 available hotel rooms across Australia.*
The bad news is that industry is growing at such a rate, in fact, that finding and retaining skilled staff is becoming an increasing challenge.
Gone are the days where mediocre service is acceptable. In the old days, if someone had a bad experience they would tell a few friends and you might lose a little business. With the advent of social media and online travel review sites, one bad experience can be broadcast worldwide, leading to untold loss of custom and revenue.
That means it is essential that your people are absolutely top notch.
The TRA report outlined that in 2015-16, the industry directly employed 580,200 people, more than the mining and agriculture industries combined. With employers encountering a significant skills shortage, the Australian hospitality industry needs to find ways of encouraging workers to view hospitality as a career in and of itself, and not just as short term employment until something better comes along. Helping workers envision the potential a career in hospitality can offer is key in attracting and retaining talent.
With the right training and qualifications, staff working in entry level positions can advance their careers in whatever direction they choose. It is an industry that encourages progression, and supports employees who show potential. Hospitality opens a world of opportunity, where employees can find themselves moving from frontline positions into sales, marketing, finance, revenue management and operational leadership. Not to mention the potential to work internationally.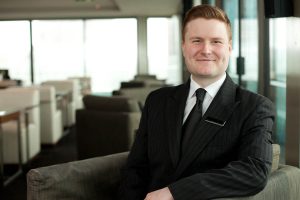 Education and training is key to effective staff development and promoting workers from front line staff into management. William Blue College of Hospitality Management at Torrens University is known globally for its high-quality graduates, who have a deep understanding of hospitality concepts, business and management principles. It has developed courses designed for professionals currently working in the hospitality industry and in particular, those interested in pursuing management positions.
A qualification from William Blue can help advance the careers of future managers and leaders in hospitality. With programs designed in consultation with industry, students are learning the skills that industry require and arming themselves with qualifications that can help them take that next step in their career development.
Realising that many hospitality staff can't leave their jobs to study, William Blue offers flexible options. Students can study 100% online, face-to-face or blended (a combination of face to face and online) at The Rocks campus in Sydney.
Key to the William Blue difference is the focus on real-life needs and industry engagement, so students have access to high-level industry lecturers. Students learn wide-reaching principles, relevant to individual aspirations and designed to develop students both personally and professionally.
In an industry that has an increasing challenge to fill a growing number of vacancies, it is essential to recognise and nurture talent. Identifying and encouraging future leaders is key in attracting and retaining staff, which of course impacts your bottom-line. Encouraging staff to enter into formal training and education is crucial to ensure you have an engaged, motivated and skilled workforce.
William Blue courses range from Diplomas to Bachelor Degrees in culinary management, event management, tourism and hospitality management, and advanced standing for work experience is offered. For those currently working in the hospitality industry, a 15% industry scholarship is available for the Diploma of Business (Hospitality Management).
To find out more about William Blue come along to their open day on Saturday 29 April or visit www.williamblue.edu.au.
*Source tra.gov.au