Pandemic brings virtual tours to the forefront of hotel industry's mind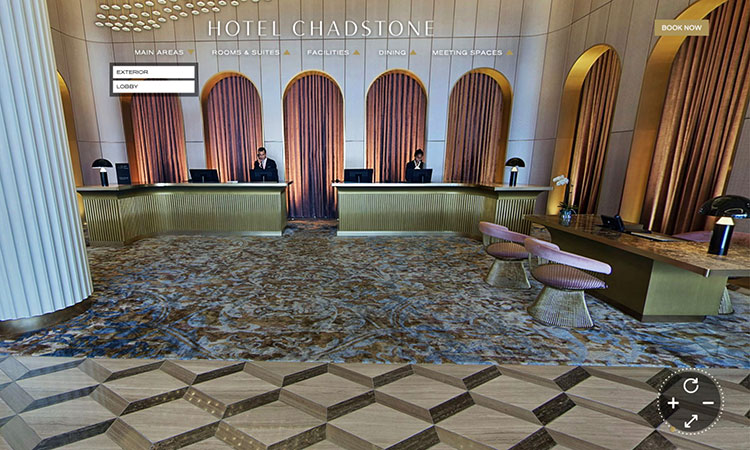 You've probably heard of virtual tours (VT), or maybe you've even considered creating one for your hotel. Now is a better time than ever to get on board with this exciting technology. 360 degree VTs give your guests and commercial customers the power to visually experience all your hotel has to offer from the comfort of their own couch. This makes them the perfect answer to COVID-19 restrictions. Not only this, but VTs also drive direct traffic to your website, bypassing those margin-thinning OTAs.
It's no secret that hotels have been hit hard by COVID-19 and hotels are now rethinking strategies to resurface stronger from the pandemic. We are coming out of a situation where hotel occupancy levels have significantly declined due to restrictions and hotels are dynamically shifting due to the ongoing changes. One of the most effective adaptations hotels have taken on board is the use of tried and tested 360 degree VTs to display their properties to customers.
360 Virtual Tours give viewers control by making their experience interactive and immersive. Viewers can discover a property on their own terms. This unique type of engagement allows the user to interact with a space in ways that traditional media can't compete. Many times it's not possible for guests to visit your property before arriving. Virtual tours give viewers the power to navigate through your hotel rooms all within the comfort of their device. Viewers can inspect every inch of the tour so they know exactly what to expect when they walk through your doors. There are a number of special features that give users total control over their viewing experience such as; day/night transitions, motion hybrids, integrated gallery and sidebar navigation. 
Virtual tours have been around since as early as 1994, where one was used to tour a 3D reconstruction of a castle from the 1400s. Since then VTs have been used across a range of different applications including museums, schools and of course hotels. The value of a VT is not restricted to the 'wow' factor of being able to virtually experience any room of the hotel in 360 degree, but there are also impressive commercial benefits that extend beyond the superficial. VTs are not only the ideal way for hotels to pivot during covid, but they also have longevity in their ability to drive direct bookings through websites so as to avoid the OTAs.
Virtual tours as part of hotel listings can increase the duration of
time spent on your website by 5-10 times
. More time spent on a website is beneficial in many ways. For example, it adds to your domain ranking and therefore increases your website's SEO score, meaning that other visitors are more likely to end up on your site. Hotels that utilise VTs gain around
50% more clicks than those with standard photos
. This means that website visitors are engaging and taking actions, and therefore are more likely to book through your website.
Panomatics VR are one of the leading virtual tour providers in the world, having created tours for luxury chains such as Sofitel, Marriott, Accor and The Langham. They've shot over 1,200 tours in over 40 countries. Managing Director Max Tramboo knows everything a person could know about virtual tours and says "within a few clicks, you can show your entire property in a unique and interactive way". The global hotel industry has seen massive changes recently due to the pandemic and Max says "Virtual Tours are very effective now because sales teams can showcase a property online and they can also be presented in Zoom, Hangout or any other online video chat program".
One of the biggest concerns that hotels face universally is the issue of OTA's taking high percentages of booking fees and cutting profits. According to Max "customers spend a lot more time on websites with virtual tours as they engage more in the content". One of the reasons reasons Max entered the VT game though was because he loves to showcase beautiful properties in as much detail as possible. One of his favourite tours to date is The Peninsula Paris because of the variety of hybrids (interactive video) in this tour which "makes the virtual tours so much more lively and gives a feeling of really being in the moment", says Max.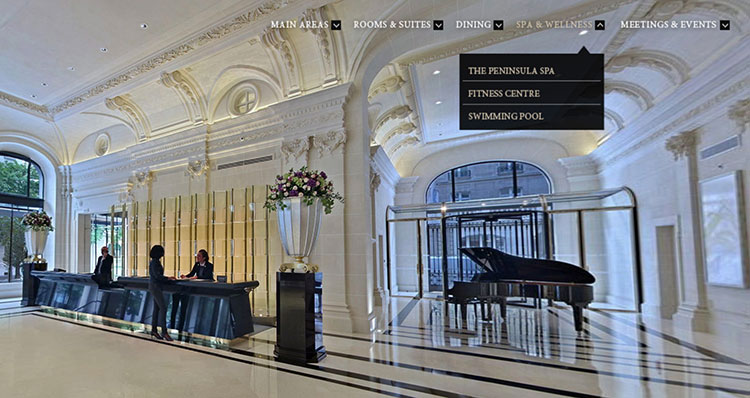 Panomatics VR are based out of Singapore and because of that, they have partnered with Melbourne-based professional content agency We Make Online Videos (WeMOV) as the sole provider to service the Australian market. "Virtual Tours are more important than ever during this global pandemic, as hotels and resorts are getting ready to welcome back guests in the coming months whilst travellers are starting to plan their next holiday" says WeMOV co-director Josh Drever. One of the many benefits of virtual tours is that they can "increase revenue by guiding a viewer to the hotel's own booking system" Josh adds. When it comes to the ROI for hotels, the benefits outweigh the costs involved. A virtual tour can double consumer interest in a hotel room, so the return on investment from virtual tours is fantastic and it is the most effective visual medium that you can harness for increasing bookings on a hotel website. Josh explains that "in many cases a virtual tour can pay for itself within the first month of adding it to a hotel website".
Virtual Tours have been around for some time, but this pandemic has brought them once again to the forefront of the hotel industry's mind. When guests cannot physically visit hotels, the next best thing is 360 degree virtual technology. The tours provide a way for sales teams to sell remotely, drive higher direct website bookings and give check-in staff an opportunity to upsell rooms. The benefits are lengthy and worthwhile, so if you're interested in finding out more, please have a look at www.panomaticsvr.com or get in touch with www.wemakeonlinevideos.com.au. Hotels will bounce back from COVID-19 and virtual tours are an exciting part of that strategy. See you in the next virtual lobby!