In today's fast-paced world, an accommodation provider is no longer solely focused on providing a good night's stay.
The tasks are overwhelming! Managing bookings, emailing confirmations or amendments, invoicing guests, monthly statements to agents, creating reports and updating booking channels.
And then you have to ensure your website is mobile friendly, offer a real-time booking engine, promote your rooms on OTAs, encourage guests to write TripAdvisor reviews and did we mention Search Engine Optimisation on your website and social media?
So much to do!
That is why we built ResBook; one system to do it all for you.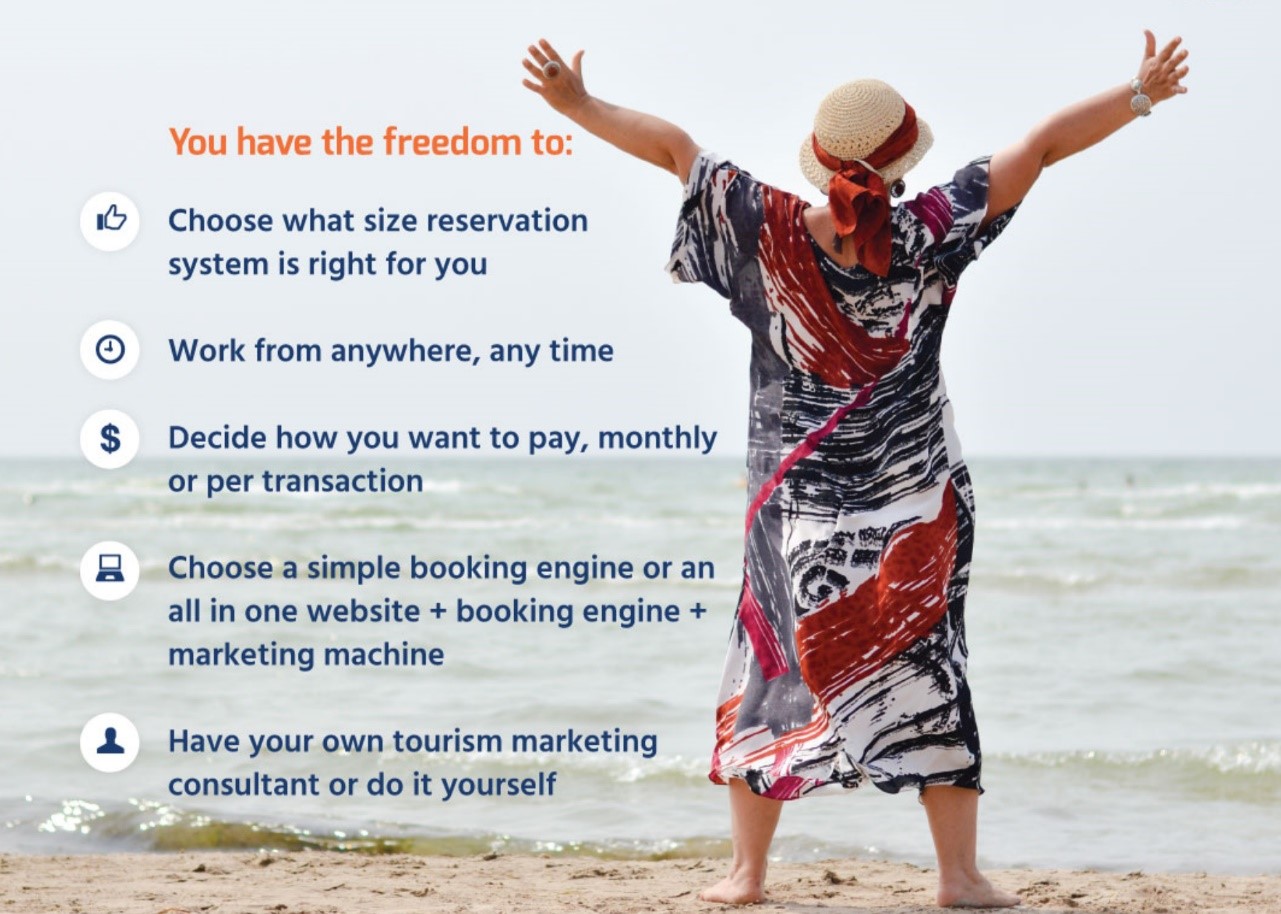 One system to do it all
ResBook Is an all-in-one cloud-based solution for your business needs. Enjoy the freedom of running your business from where ever you are and the joy of receiving new booking notifications instantly right on your phone.
ResBook allows your guests to book directly from your website easily on any size screen or device.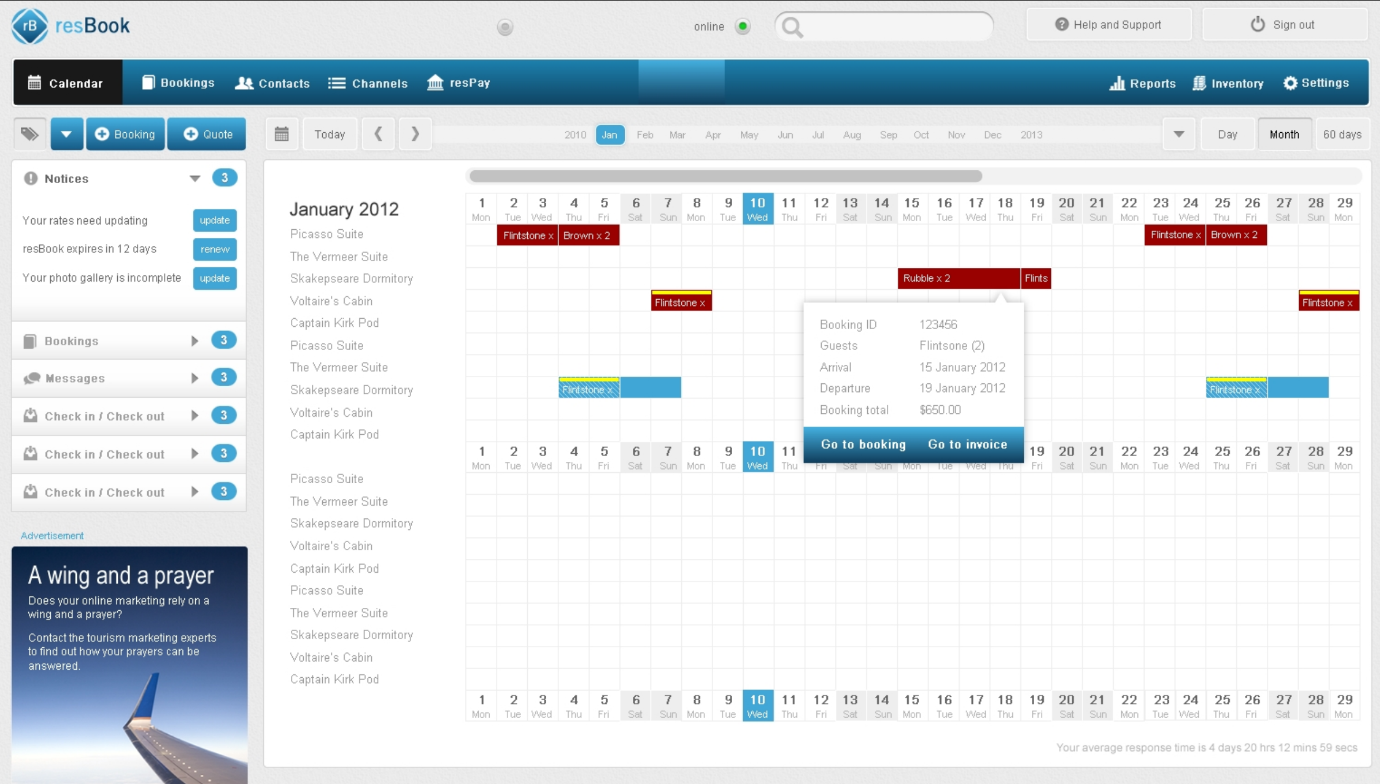 To manage your bookings, there is an easy to read calendar where you can see all of your bookings in a glance. Instantly see which guests are coming, for how long and when, with a quick hover feature to view booking details, special notes and more.
ResBook is also marketing machine
You can upsell with promotional codes, packages or gift vouchers and our highly configurable rates systems allows for simple or complex pricing and specials management. There are other upselling opportunities by adding the Services Module to your ResBook so you can upsell meals, pick up services and more. And an upcoming integration with Rezdy means you can even seel live activity and tour bookings via your ResBook.
Our simple Customer Relationship Manager allows you to manage your customer profiles and relationships, and use our integrated MailChimp newsletter service to quickly and easily send specials and promotions.
Stay ahead of the rates race with our Competitor Analysis Module that allows you to compare your website rates and OTA rates against your chosen competitors.
Channel Management
Promote your business on Booking.com, TripAdvisor and Airbnb directly from your ResBook or if you want to distribute to a multitude of channels choose our integration with either SiteMinder or ResOnline to promote your rooms on over 80 other OTAs.
Feature Rich Options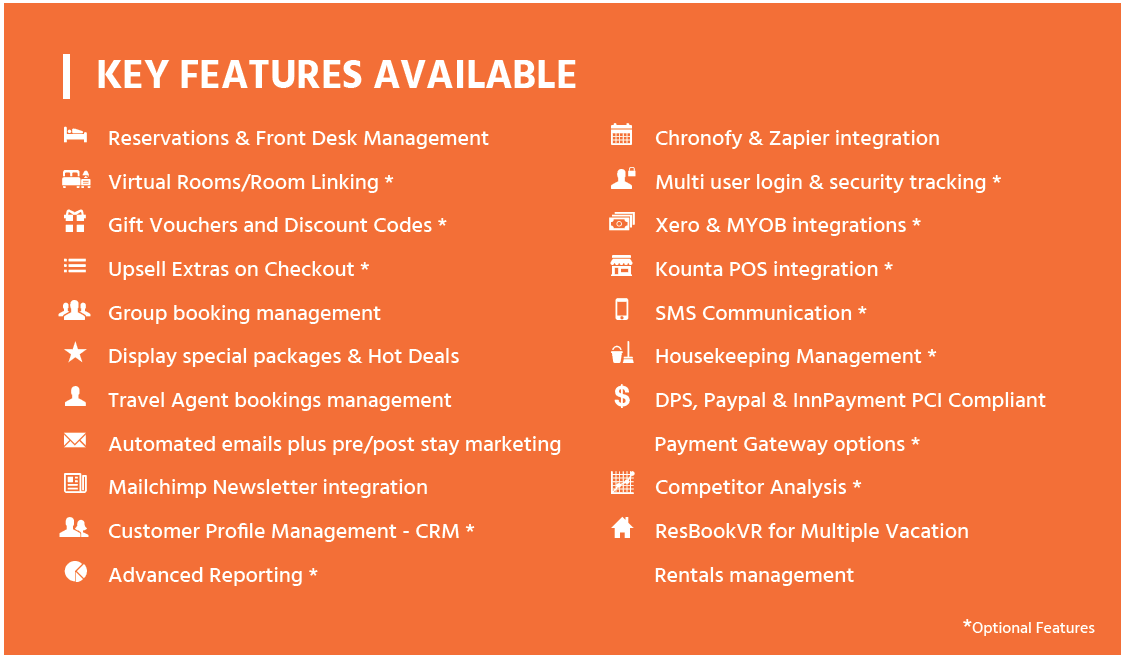 Your system, your choice
You have the freedom to custom design ResBook to suit your business, paying only for the tools you need today then add more as your business grows.
ResBook is the cloud based hub of your business that offers the option to now only choose the built in features that you want to boost and simplify your business but also the additional Best of Class Partner Systems to streamline your business needs.
Choose from integration partners like:
Xero or MYOB for accounting
PayPal or Payment Express for your PCI Compliant Payment Gateway
Kounta for a Point of Sale Add on
Xapier and Chronofy to connect to most SaaS based systems of your choice
If you are a Vacation Rental Manager, check out our ResBookVR with features and functions for your business needs.
ResBook is supported by an award-winning digital marketing team. Turbo boost your business with a mobile friendly, responsive website, search engine optimisation, Google AdWords campaigns to be found on the top of any Google search or social media promotions to inspire direct bookings.
We are here for your business's success
Enjoy the freedom of having one system and one partner that can help with all of your booking and marketing needs.
Save time and increase bookings today!

For more information please contact: P +64 800 842 957
E info@resbook.com   W www.resbook.com