RezExpert Central V.9 by DigitalRez is our premier Software as a Service (SaaS) technology suite idealy suited for small & medium sized multi property groups requiring a Central Reservation and Client Management system at a new price point for the industry.
RezExpert Central V.7 was designed for SaaS in 2009, we were the 1st reservation systems company hosted on the Amazon cloud servicing large camping and accommodation groups in North America. These groups required membership management, centralised online bookings, reservation property management, call centre functionality and seamless web integration with a multiltude of diverse properties, locations and services.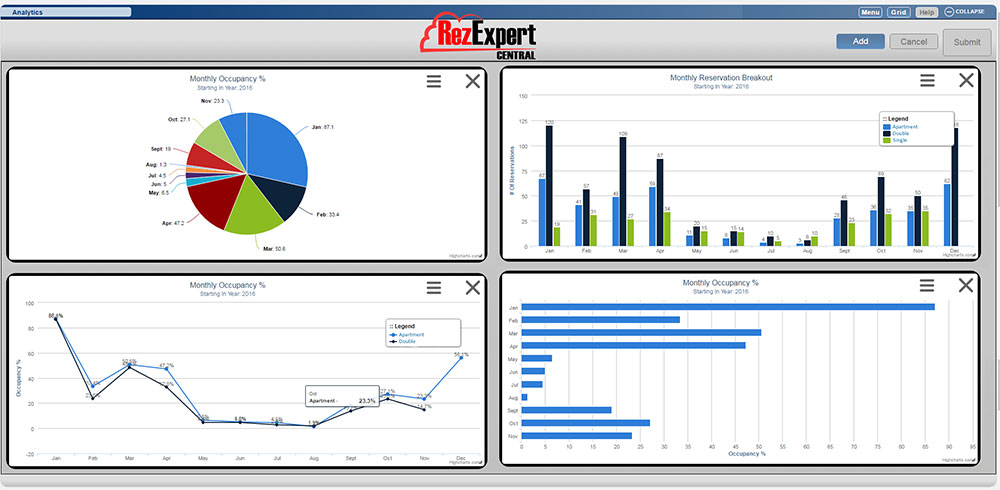 RezExpert is highly configurable with a powerful member & rates rules engine. The system is infintely scalable on Amazons EC2 infrastructure featuring secure, demand responsive resizable compute capacity "on the fly" to meet your business peak periods. RezExpert includes Oracle RDS license fee and our Java front ends deliver responsive front desk operations.
RezExpert is the perfect system for growing businesses, our Amazon stack drastically reduces the requirements to maintain a large IT infrastructure & delivers savings year on year for our clients. Access all your properties from one simple interface on any internet enabled device dramatically reducing your support costs.
Whether you manage a small property operation or an enterprise business with multiple locations, RezExpert's Central design will enable businesses to service their guests and reservation requirements delivering operational savings and increased revenue.
Maintain your Uniqueness
RezExpert ensures the future growth of your businesses as you maintain the unique booking requirements and rules for each property.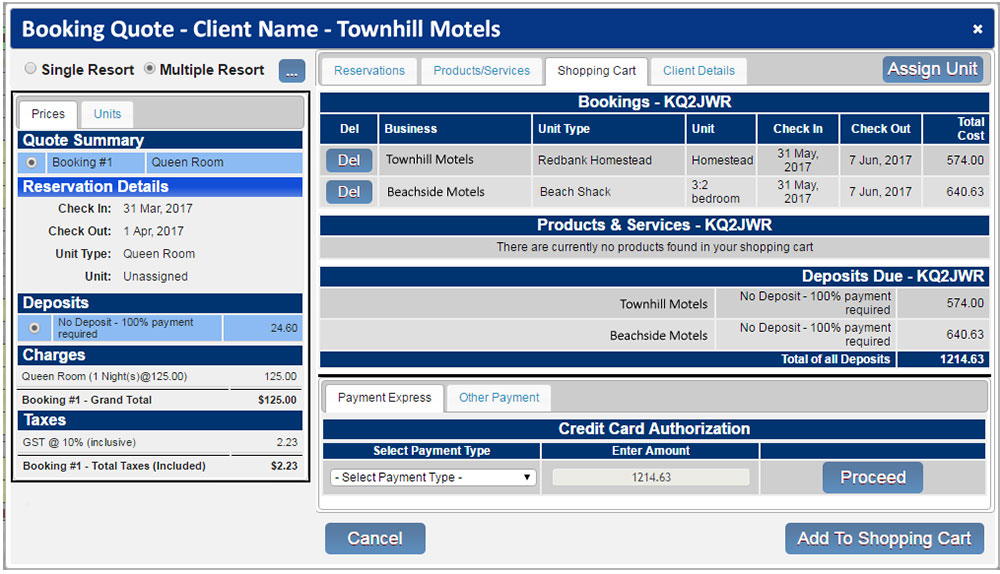 RezExpert has a host of features designed to support the unique booking requirements of each individual property within the Central. Advanced features like Membership rules & Promotional deals allows for different guest types (Customer profiles) to book at all or restricted properties with automatic assignment of different rate groups, discounts, minimum stays, usage rules and much more delivering enhanced guest services & increased revenue.
Executives, Managers and Front Desk staff (with the appropriate security level) have the ability to 'switch" between all (or just a selection) of the Properties' Availability Grids from one simple interface on any internet enabled device for increased productivity.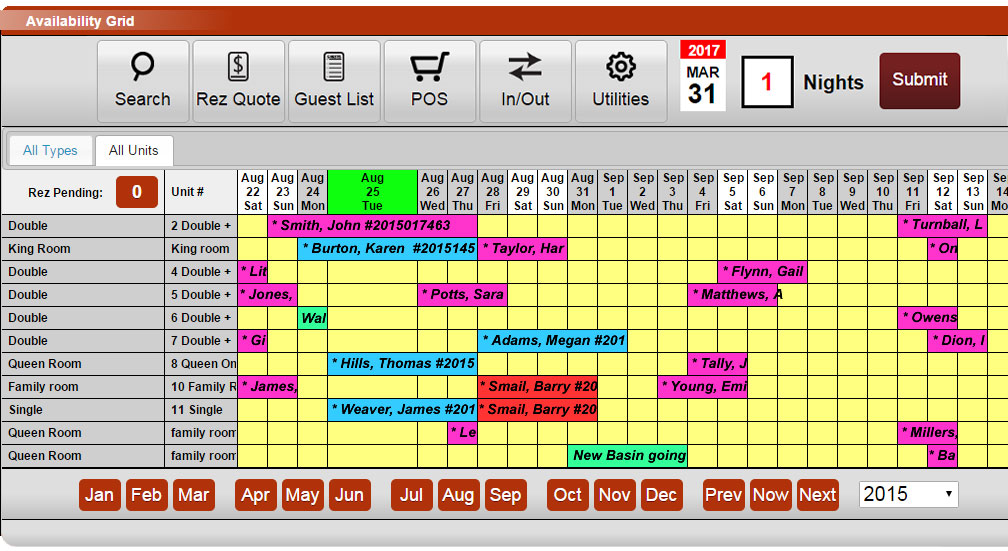 Executives & Managers have mobile access from any office or other location to their secure reservation management dashboards featuring realtime reporting on revenue and occupancy analytics. Specific employees, Managers & Call Centre employees can have "Overall" system access allowing them to move between the different properties, while other front desk, housekeeping and back office employees can be restricted to a particular property or properties.
RezExpert Central provides availability status in real-time, operators make booking directly onto the Availability Grid and inventory is updated instantly. Employees can create Shopping Cart style bookings across multiple properties to leverage increased loyality & revenue.
Integrated Credit Card Vault and Payment Gateways ensure your properties remain PCI Compliant at all times, Pre-Authorisations, rechargeable tokens and nightly settlement of all card transactions are a feature.
Online Bookings are a must, as all travellers use multiple avenues to book their accommodation. RezExpert ensures you don't miss out on any bookings by offering realtime online bookings from your website and Third Party Distribution managers. All availability and rates are instantly updated, employees and guests will see your real-time availability when making bookings. Pages are designed your way with a selection of 5 Online Booking page layouts available, even turn your Property Map into a booking grid.
Each property within your Central can have their own booking payment requirements, their own booking page design and correspondence.
RezExpert takes security seriously, the entire system stack is designed with military level encryption, security of clients inventory and guest data is paramount.
With password protection and multi-level authority, sensitive information stored in the system is protected and is only available to those who have the appropriate security level.
Don't lose your identity, RezExperts' theme editor allows all properties within a Central to retain their corporate or individual branding design themes. Property logos, T & C's, booking rules, client & inventory images and documents are all supported. If you require all businesses to be "White Labeled", RezExpert makes it easy to maintain corporate conformity across the group.
After Sales & Product Support at RezExpert, with offices in Australia, Canada & Barbados, our 24 hour 7 days a week Support team pride themselves on delivering the best client service in the industry. We get to know your business and procedures and this provides for a greater level of support services and training.
RezExpert brings your world together, your way.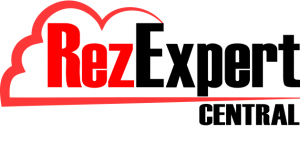 Contact Mark Payne or Clare Oben at DigitalRez for an obligation free preview.
Ph: +61 7 4925 4400
Email: sales@rezexpertmail.com.au