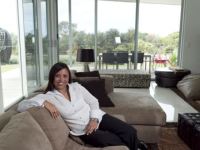 Tweed Coast property agency Ray Real Estate is gearing up for a bumper spring and summer tourist season, with an expansion into holiday letting services from its Salt Village office.
The new holiday letting arm, to be launched this week, is in response to growing demand for holiday houses and self contained apartments along the Tweed Coast. The past decade has seen an explosion in holiday visitation to the region and the development of major resorts operated by the Mantra, Peppers and Accor chains.
Ray Real Estate is a subsidiary of Ray Group, the developers of the Tweed Coast resort and residential precincts of Salt Village and Koala Beach. Ray Group chief executive Tom Ray says the popularity of the Tweed Coast resorts is now spilling over into self contained accommodation.
"There has been a big growth in demand for this type of holiday on the Tweed, particularly in the Salt Village and Casuarina Beach areas over the past couple of holiday seasons," he said. "We're getting asked too often if we have any holiday houses with pools, beach houses, self contained apartments and townhouses and the like, so we've decided to offer these properties for short term rental on behalf of owners."
Ray Real Estate property manager Sandra Ross says the agency will concentrate on holiday properties all along the Tweed Coast, and will offer listings for everything except resort apartments within the Mantra and Peppers properties at Salt Village. She says the agency's holiday letting arm will provide property owners on the Tweed Coast with an alternative to permanent letting, allowing owners more flexibility to use their properties for their own holidays and weekends, while also keeping an income.
She says a major advantage is Ray Real Estate's location at the heart of the Salt Village resort precinct, home to three tourist resorts comprising more than 650 resort rooms. "No other agent or manager allows owners access to so many tourists in such close proximity – tourists and conference participants who are thinking about their next holiday," Ms Ross said.
"The fact that we are here at Salt Village and open seven days a week provides better contact for holidaymakers for assistance and more opportunities for owners to talk to our managers about their property. We are on the ground, have a strong team and are ready to respond to any issues.