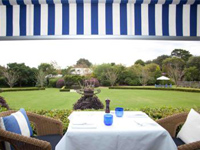 Bells at Killcare Boutique Hotel, Restaurant & Spa, nestled on Sydney's Central Coast,
has opened its doors to 14 brand new architect-designed deluxe suites and villas this month. The expansion to Bells will offer high-end levels of comfort and luxury beautifully decorated in classic Hampton's blue and white style, overlooking lush landscaped native gardens, and restored lakes and ponds. The accommodation also features king-sized beds with Ralph Lauren bed heads, luxurious hand-woven blankets, individual open fire places, flat screen televisions and beautifully appointed lounge and dining areas.
The resort's restaurant – Manfredi at Bells – has become recognised within the Australian food industry for its leadership in sustainable produce. Head chef Stefano Manfredi is now widely considered a pioneer within the sustainable food arena. The award was the culmination of more than four years work, with Manfredi and his chefs building up the Bells at Killcare gardens into more than 500m² of land now cultivated for food.