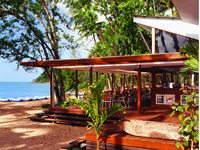 Dunk Island Resort will be refurbished after being sold to Charlton Hotels.
Linc Energy boss Peter Bond signed the contract for Dunk for the 150.55ha resort and land last week.
It is understood Mr Bond plans to reopen the former four-star resort next year on a smaller scale, with about 30 rooms instead of the original 160.
Mission Beach Business and Tourism manager Angi Matveyeff said, "Dunk Island is an internationally recognised product. People have been saying the resort would never reopen [after Cyclone Yasi] but it was always going to – it has a long tourism history."
The sale of Dunk and Bedarra island resorts attracted more than 160 inquiries, CBRE Hotel senior director Wayne Bunz said. "It is very positive to see such a high level of interest for an asset of this calibre considering market conditions," he said.
CBRE has been appointed to sell Club Med Lindeman Island in 2012.