Profiles
Grand Mercure Apartments Coolangatta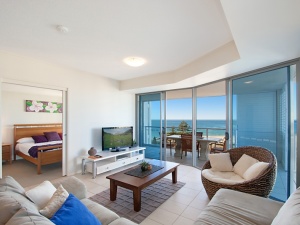 Position, position, position.
The three most important factors in management rights say Robyn and Dick Douglas and as the onsite managers of Grand Mercure Apartments Coolangatta you can see why they believe location is everything.
Coolangatta is the gateway to the Gold Coast and the beautiful Tweed Valley. Grand Mercure Apartments Coolangatta is perfectly positioned right in the heart, opposite the pristine Coolangatta beach, and only five minutes from the Gold Coast International Airport. Restaurants, shops and clubs are all within walking distance and as Coolangatta is the gateway to the Gold Coast, it is a perfect base to enjoy all the activities and attractions on the Gold Coast including the theme parks, the Gold Coast Hinterland and Surfers Paradise activities.
Nestled next to the iconic Kirra Hill all of the 93 (in the building and approximately 47 in the holiday letting pool) apartments provide an ocean view.
"Coolangatta is the most picturesque region of the Gold Coast and provides holiday makers with beautiful clean beaches and pristine warm waters. Guests can enjoy the whales (during the migration season) from their balcony otherwise just sit back and relax watching the waves roll in," says Robyn.
Dick worked as a stock and station agent, auctioneer, real estate agent for over 30 years and Robyn worked in legal offices (PA and bookkeeper) for approximately 20 years together with voluntary roles in the local Deniliquin community.
"We have friends from our background and home town who have been involved in management rights for over approximately 25 years. They believed management rights was a business we would enjoy and suit our abilities, so after some encouragement and lots of research, we decided on a 'sea change'," said Robyn.
In 2000 the couple moved to the Gold Coast from Deniliquin and after owning management rights in Palm Beach for two years, they saw a sign for the proposed Blue C complex and jumped at the chance. "We successfully tendered for the management rights business and have been here ever since," Robyn said. "We initially worked under the Blue C Apartments business banner and were fortunate enough to meet up with Dino Mezzatesta, who is the general manager of Accor Hotels franchise division and after a number of meetings with various Accor staff/management decided to become part of the network," she said.
"We decided that working with Accor and rebranding our business under the Grand Mercure Apartments banner would deliver the best results for our investment owners and business. Accor now provides us with support in many ways, including sales and distribution, offering many opportunities to advertise our wonderful product to a much broader range of guests."
Management's affiliation with Accor has been an interesting and beneficial event in our time of managing says Robyn. "From our few short months with Accor we have seen a definite growth in occupancy and forward bookings. It is great to see the building filling with happy guests enjoying the delights of GMA Coolangatta and the wonderful Coolangatta area," she said.
Being a relatively young building (only seven years young) minimal refurbishment has been undertaken to date. Management and owners are continually upgrading their apartments with a view to provide "guest appeal" and comfort explains Robyn.
"Whilst no major refurbishments are undertaken, owners at GMA Coolangatta have always been aware that it is necessary to upgrade their furnishings and apartment to maintain a high standard. Many of our owners enjoy their apartments from time to time and it is pleasing to see that whilst they are here, they always implement some improvement," she said.
At the end of the day Robyn admits it's the variety of guests that prove to be the most appealing aspect of their business. "We have met so many interesting, and wonderful people – many of whom choose to celebrate their weddings, anniversaries, milestone birthdays, special family reunions and we are so pleased they choose Grand Mercure Apartments Coolangatta to enjoy these special times," she said. "So many of our guests are return guests, some have visited over 30 times. They have also become our friends as well as valued clientele. Many of the owners and staff have also become valued friends. We have had some very well known celebrities/sports people choose to stay at Grand Mercure Apartments Coolangatta and many have returned citing the friendly atmosphere, ease of booking, position, and décor as the main reasons for returning.
"No day is the same at work and we are always learning and being provided with extra challenges. Life is never dull!" Robyn added.
Grand Mercure Apartments Coolangatta provides fantastic beach holiday accommodation in the modern Blue C complex. An array of shops, restaurants, clubs and other facilities are all within an easy stroll. World famous surf beaches (Duranbah, Snapper Rocks, Kirra) also dot the local coastline.
The one bedroom air conditioned luxury apartments come with a spacious private balcony, providing magnificent ocean views over the pristine waters at Coolangatta beach and complimentary cable television. Bedding is either a queen or king sized bed. The two and three bedroom air conditioned luxury apartments come with a spacious private balcony, providing magnificent ocean views over the pristine waters at Coolangatta beach, walk in shower and bath and complimentary cable television.
Facilities include a large lagoon style heated pool with comfortable and spacious surrounds. This pool is fantastic for small children with a large wading area but also provides adults with a large area also to swim.
The congenial BBQ area with umbrella shade is a great place to relax and unwind. A well equipped gymnasium, spa and sauna are also available.
Are you interested in lifting your industry profile?
Email [email protected] or call (07) 5440 5322