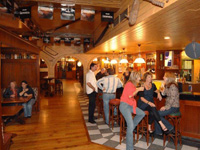 Hobart-based Ken Stronach – of Stay Tasmania and Quest fame – has confirmed he has bought Burnie's Bayside hotel from a Rockefeller family company for an undisclosed price.
He said he was investigating getting a chain involved, which would help with his aim of developing the corporate market. "I see Burnie as a good corporate town. I'm hoping with the money we put in, the investment will pay off."
He said it had been a very good hotel for a long time and had the capacity to hold significant market share. Mr Stronach said the Rockefellers had done a lot of work on the property.
His plans included an immediate upgrade to full air conditioning in all the rooms and "some cosmetic things", plus looking at food and beverage options.