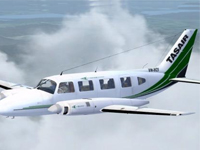 Tasmanian airline TasAir P/L has gone into voluntary liquidation.
TasAir employees were advised of the company's voluntary liquidation on Friday and flights have ceased operating.
Robert Tenbensel, of Tenbensel & Dee Chartered Accountants, has been appointed liquidator. A meeting of creditors has been scheduled for February 14.
The airline's been providing two daily services to King Island out of Devonport.
Executive officer Shannon Wells of Airlines of Tasmania that operates out of Wynyard, said the company had put on extra flights and staff to cater for the increased demand following the cessation of TasAir flights to and from King Island.
"We have a licence to operate out of Devonport and we will be starting services in and out of Devonport shortly," Mr Wells said.