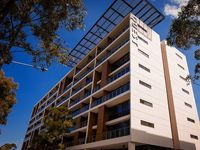 Quest Serviced Apartments' aggressive growth strategy continues to fire at a rapid rate, with the $30 million flagship property Quest at Sydney Olympic Park opening today [Oct 31].
Quest at Sydney Olympic Park is the fourth property that the company has opened since July. The remainder of 2012/13 will see Quest expand into eight new locations in Australia and New Zealand, a total of 12 for the financial year.
The new 4½-star property is Quest's second largest, boasting 140 studio, one, two and three bedroom apartments in metro Sydney's geographic centre.
Paul Constantinou, chairman Quest Serviced Apartments, says the expansion will cater to the 12 million people who visit the area every year.
"Sydney Olympic Park presents an ideal market opportunity for our business – there are 6,000 events held here every year, including the AFL and NRL, major concerts and the V8 Supercars. There is also the ever growing sporting community – athletes, trainers, visitors – and a solid business base," Mr Constantinou said.
"Flexible accommodation such as Quest's is scarce and we look forward to catering for the market we know exists now, and to support it as the area continues to grow into the future," Mr Constantinou added.