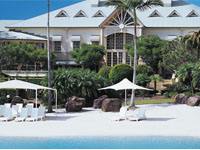 Hyatt Regency Sanctuary Cove will be rebranded after InterContinental Hotels Group takes over management on 5 December.
Mulpha Australia Ltd's head of hotel investments, Lloyd Donaldson has said the 274-room Sanctuary Cove property on the Gold Coast will be renamed InterContinental Sanctuary Cove.
Mulpha also owns the InterContinental Sydney and Mr Donaldson said Mulpha was "delighted" to be extending its relationship with IHG.
This is the second Hyatt property in Queensland to change chains, following the rebranding of Hyatt Regency Coolum to Palmer Resort Coolum.