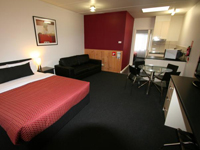 Best Western is giving travellers even more accommodation options Australia with the Best Western Hamilton Lakeside Motel in Hamilton, Victoria, joining the global chain.
The Best Western Hamilton Lakeside Motel offers guests a range of accommodation from spacious two room self-contained accommodation suites catering up to six people, fully refurbished disabled rooms, and deluxe and standard rooms. Rooms offer Austar cable TV and free wireless internet, with breakfast available as room-service.
The beautiful garden setting of the property is enhanced with a guest BBQ and the property's close proximity to Lake Hamilton, a children's skateboard and recreation park and the renowned Ansett Museum.
Peter Duffy and Valda Cooper, owners of the Best Western Hamilton Lakeside Motel said, "The high quality and standards of Best Western will ensure we meet our guests' high expectations for quality and service".
Rob Anderson, chief executive of Best Western Australasia said, "Hamilton is a unique and exciting tourism destination for holidaymakers and business travellers. We're delighted to welcome this fantastic motel into the Best Western group, and help increase tourism to the region".
Hamilton, both the geographic and business hub of the region, has been the centre of a large and wealthy pastoral industry for over 160 years and has grown to become a thriving country city. Exhibiting style and quality, with excellent shopping, diverse architecture, an outstanding art gallery and stunning botanic gardens, this gracious city offers a first class visitor experience.