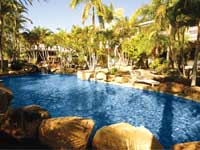 The 27-year old Colonial Palms Motor Inn at Airlie Beach in the Whitsundays was recently purchased by a family group involving John Carey, Bridget Brookes, Jeffery Barnard and operated with the help of Bridget's daughter and husband, as on site managers.
All 30 rooms have be completely refurnished with quality chattels featuring a Raffles Colonial theme. The bathrooms have had a makeover with all modern fittings and
particularly aimed at the seniors coach tour market. Easy access and grab rails are a feature in the showers. For 2013 year, 26 coaches are booked to stay at the motor inn.
The costs of these Stage 1 and 2 renovations completed in April approached $650 000. Further renovations are planned in late 2013 into 2014 for new solar hot water systems, solar power for the laundry and pool pumps and a remake of the tropical gardens surrounding the unusual slate tiled pools.