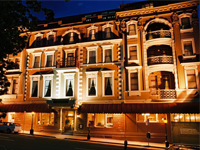 Hobart's grand old Hadleys Hotel has been bought by the operators of the award-winning Woolstore Apartments, according to The Mercury.
Receivers were appointed in January last year, not long after Hadleys completed a $30 million extension including luxury apartments, conference facilities, restaurant and café.
The company owed Bankwest $60.45 million and the hotel was placed on the market in April last year.
The hotel and the Grand Mercure Hobart Central Apartments had been operated on a business-as-usual basis by chartered accountants Korda Mentha.
Old Woolstore Apartment Hotel managing director Jon Lister said the purchase of Hadleys was an exciting opportunity and an endorsement of the Tasmanian tourism market. "This purchase is part of our team's strategic vision and we intend to invest significantly in the restoration of Hadleys Hotel back to the iconic business that Tasmanians have known for over 150 years," he told The Mercury.
Hadleys was built by convicts in 1848. Its first owner was ex-convict John Webb, who was transported to the state for house-breaking. After Webb died in 1881, the new licensees – John and Mary Hadley – changed the name to Hadley's Orient Hotel and the Hadley family operated it for 55 years.