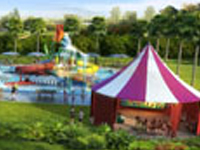 Family-friendly accommodation favourite Oaks Oasis in Caloundra, Queensland is giving travellers even more reason to visit its popular resort surroundings, this week announcing that plans for a brand new onsite water facility have been approved.
A major coup for Oaks Hotels & Resorts, construction of the major water play centre commenced this week, with completion expected by 1 November 2013 in time for the wave of summer holidaymakers.
Set within the resort's lush, landscaped gardens, the 500m² facility will include a sizeable splash pool and central multi-level water attraction complete with water slides, fountains, colourful and interactive activities and giant tipping buckets. Grassy, shaded picnic areas will also complement the fully heated facility, promising an enjoyable, splashtacular experience for young and older families alike all year round.
A shallow children's wading pond will also feature within the play zone, in addition to vibrant character theming, further enhancing Oaks Oasis's appeal as the perfect family-friendly or party venue. The facility will also be fully fenced, ensuring safety is a priority.
Oaks Oasis has gone from strength to strength since Oaks Hotels & Resorts acquired the property in mid-2012; completing approximately $2.8million in refurbishments to the property's common areas, restaurant and conference rooms late last year. This new onsite development will see the resort continue to emerge as a market leader, boasting a unique point of difference to its competitors.
Access to the water play centre is free for all guests of Oaks Oasis. The resort comprises 180 self-contained apartments and villas, set amongst four acres of manicured gardens. Other leisure facilities include a central, tropical pool with spa, children's playground, on site restaurant and sports bar, games room and floodlit tennis court.
The property is just metres from the award-winning Golden Beach and other nearby attractions.