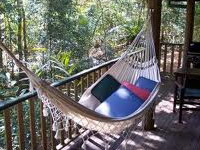 Narrows Escape Rainforest Retreat will close from10 February and re-launch on 18 March with a whole new look to its cottages, as well as the introduction of free wifi, a luxe trekking option along the adjacent Great Hinterland Walk and Chinese interpretative signage to showcase the rainforest.
All six cottages in the boutique resort, located in Montville in the heart of the Sunshine Coast Hinterland, will receive new bathrooms and kitchens, along with upgrading of all soft furnishings and a fresh new colour scheme.
Narrows Escape will launch a first for the Sunshine Coast as part of the upgrade – Chinese interpretative signage on its rainforest trails. These signs (which are also in English) explain the richness and biodiversity of the rainforest and its flora.
With its location next to the Great Hinterland Walk – a spectacular 58km trail through the Maleny-Mapleton Plateau and the Blackall range – Narrows Escape will offer 'luxe trekking' opportunities for people wanting to walk sections of the Walk, while still enjoying the luxury of spa baths, champagne and ultra-comfortable accommodation.
Narrows Escape's owners Mark and Joanne Skinner said that the upgrade would bring a whole new market to the Sunshine Coast. "Research is showing that there is a vast appetite for adventure and eco travel, and the beauty of our location is that we can offer a total rainforest immersion just half an hour's drive from Sunshine Coast airport," they said.
"We have always been popular with the European and American markets, but we have started to attract an increasing number of travelers from south-east Asia, Japan and China, and with this upgrade we will be able to market the region even more extensively in these growth markets."