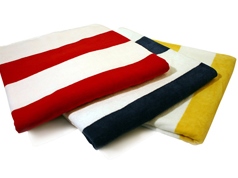 As I've mentioned before, branding is paramount to the success of any business. Resorts are no exception. If you want people to stay with you time and again, and recommend you to family and friends, you have to remind them. It takes more than great customer service and a comfy bed. It's the little extras. Chocolates on their pillows may make them love you just before they fall asleep but what about something to take home with them?
Providing stationery branded with your logo is a great way to add value to their stay, while making sure you're advertising dollar last long after they've gone home. And you would rather them slip a pen in their handbag than a hotel towel! Pens, memo pads, tote bags, even a pair of thongs or slippers reinforce your resort-brand with every use. Not only will it serve as a memento of your guests' holiday, it can be a talking point when others notice these nifty gifts.
Promotional products can be inexpensive when bought in larger quantities. Use a simple single colour version of your logo, your website address or your corporate colours to really bring the message home. With promo products you have to think, 'the more I give away, the more people know about us'. So leave the pens on your front counter in a branded container, place in the rooms and use them for tradeshows and conferences. Keep your resort fresh in people's minds so the next time they plan a holiday, it includes you.
What about uniforms? Branded T-shirts, uniforms and caps show professionalism, make you easy to identify and can create a real sense of team spirit. We've found when designed well, some become so popular that guests want to purchase them too! If you have a relaxed style resort, why not make them quirky and memorable. No matter what type of accommodation you run, branded outfits speak volumes, not to mention reinforcing your business name wherever you go.
Don't forget your staff. Happy staff = happy workplace and happy customers. Why not give awards to your best team members? An engraved wall plaque displayed in the front reception shows your company fosters goodwill, strengthens your brand and boosts morale. Showing your appreciation of a job well done, will benefit your business and ensure your staff go the extra mile for your clients.
So instead of waiting until the next busy period is upon us again, order your promotional products now. While you are at it, make sure all your branding is streamlined. Take a look around your work place and ensure your reception, building and room signage all matches your A-frame, promotional products, uniforms and website. This is true branding and guarantees your business is memorable. Yet another example of why signwriting is more than just a trade. Signwriters are your business solutions partner. When was the last time you spoke to yours?
Greg Nettle
Signxtreme