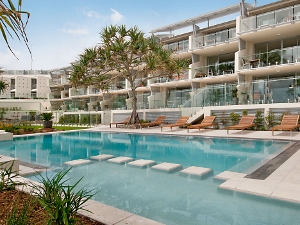 Technology
Beachfront resort's unreliable wifi rectified
Fairshore Beachfront Apartment Resort is located in Noosa Heads, one of the Sunshine Coast's most idyllic locations and one of Australia's most popular and renowned holiday destinations.
Fairshore's first class two-bedroom modern apartments front the sands of Noosa Main Beach and offer uninterrupted ocean views. Fairshore Beachfront Apartments certainly has a lot to offer with its breathtaking location, modern apartments and plethora of facilities that provide a winning formula for guests.
It sounds incredible to say that this resort could be any less than perfect, but they did have a niggling problem that was cause for concern, a problem that plagued this beautiful resort – below standard Internet coverage. Fairshore Beachfront Apartments was offering free wireless Internet to their guests via a Netcom system with an external antenna at the beach side of the complex but this Internet had very limited coverage and depth. This was a cause for much complaint to the management and was certainly not what their discerning guests had come to expect.
Jodie Cooney is the operations manager at Accom Noosa that manages Fairshore Beachfront Apartments and she explained that the resort had experienced a lack of coverage with the previous routers making the Internet very slow and unreliable. Fairshore's body corporate had aimed to provide reliable, securely managed, free wireless Internet access to all guests throughout their 30 apartments, so they approached Time Out Internet for a solution.
Time Out Internet is a company that provides Internet solutions to those businesses that wish to provide an efficient and fast public wifi service to their customers. This 100% Australian-owned business is based in Queensland on the Sunshine Coast and was launched in 2011 by Peter Trollope and Judy Senn, with over 30 years combined IT experience between them.
They recognised a gap in the commercial market for easy to use and cost effective wifi hotspot, guest wifi and Internet management system solutions. "There was no other affordable and easy to use system I could find that seems to be able to control Internet usage to this extent for commercial use. Nothing that covered all devices that can be connected to the Internet," explained Peter Trollope.
Time Out Internet assessed the situation at Fairshore Beachfront Apartments. The concerns with Internet speed and unreliable access were looked at and they prepared a specifically designed technology and support solution for the managers and body corporate to consider. The customised package that the company presented to Fairshore provided the resort with the resources required to deliver wireless Internet services to their guests while protecting the business from inappropriate Internet usage.
Judy Senn explains that the recommended solution was to install a Time Out Internet Flexi Gateway Controller, a five port switch, Peplink BBP-031 load balancer and three ADSL modems in the switch room in the car park to manage Internet access for guests. She adds that "due to the poor Internet infrastructure in the Noosa Heads area, the solution bonded 3 ADSL lines together using the Peplink BPL–031 load balancer to ensure adequate bandwidth was available at all times for guests."
In addition, they recommended that two Time Out Internet high powered external access points be mounted on poles on the beach side of the complex. With two high powered external access points installed on posts on the roof top of the barbecue area, close to the street side of the complex. Each of these high powered external access points would provide wireless access to guests staying in the complex, internally and externally, managed by the Time Out Internet Flexi Gateway Controller located in the switch room in the car park.
The Fairshore body corporate agreed to the recommendations, they purchased the hardware, setup and the annual service. The result has been a complete success, Jodie Cooney says, "We are very happy, the system is very easy to use and it has been very reliable." She adds, "Any teething issues we have had, have been rectified by Time Out Internet within a few hours, if they can't talk us through the issue over the phone."
Fairshore Beachfront Apartments now offers guests 1Gb of free data per day per room and the system allows five people or five devices to utilise wifi at the same time with each unique username and password and the 1Gb of data is shared. If guests would like more data the resort happily obliges. It was suggested by Time Out Internet to manage the guest's data in this manner as opposed to giving unlimited data as the resort had initially intended.
Most importantly, Jodie confirms that the guests at Fairshore Beachfront Apartments are very happy! "The guests love the way they can set up five devices on the one password and Time Out Internet have load balanced three ADSL lines to ensure that there is enough bandwidth to cope with the high demands of our guests."
From the experience at Fairshore, Jodie is keen to recommend the Time Out Internet management system, as it has proven advantageous, especially with its ease of use and the many options it has given them.
So I asked Jodie what their overall experience with the Internet installation has been like. She replied without hesitation, "Peter and Judy have been great. In a resort it is very important for Internet problems to be rectified immediately as a lot of guests will require Internet for work purposes. However, the Time Out Internet guest wifi system has proven to be very reliable and support calls have mainly been to do with a loss of Internet connection from the ISP. In addition, the software is very easy to use and you can access anywhere you have an Internet connection so you can add users or increase data limits while off site."
They do this by using Time Out Internet's Access Control Server. This exists in "the cloud" and can be accessed via a unique username and password, giving managers the tools to manage their guest wifi from any device anywhere, as long as they are connected to the Internet. The Access Control Server is supported and maintained by Time Out Internet and all updates to the server, enhancements to the system, added features and functions are included in the annual pricing.