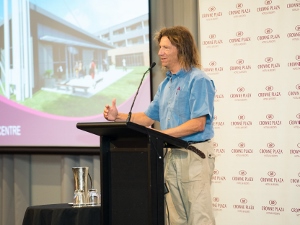 News In Brief
Upgrade access if Hunter Valley tourism is to be a butterfly
Hotel developer Jerry Schwartz told NSW premier Mike Baird that major infrastructure support was required if Hunter Valley tourism was to be transformed from a "cocoon to a butterfly".
He called for an upgrading of Cessnock Airport to a commercial airport and major work to be carried out on the access road to the wine district from Sydney via Cessnock.
Dr Schwarz was speaking at the launch yesterday of the Hunter Valley Conference & Events Centre, the largest regional convention centre in NSW, that has been developed by the Schwartz Family Company at at cost of $6 million. The 1650-delegate capacity venue was opened in the grounds of the Crowne Plaza Hunter Valley at as part of an overall $120 million investment by the company in Hunter Valley tourism assets.
The centre is the latest addition in an integrated resort that comprises the Crowne Plaza, Lovedale Brewery, a championship golf course and extensive recreational and dining facilities.
A feature of the new Centre is the re-use of striking architectural pylons that were originally part of the Sydney Convention and Exhibition Centre exterior design.
Dr Schwartz, said that the launch of the new Centre would have a significant impact on the Hunter Valley's ability to win major conferences and events. "While some traditional mining and manufacturing industries are in decline, tourism has enormous potential to grow income for local operators and create jobs," said Dr Schwartz. "The Hunter Valley has rich history and pedigree, high quality accommodation and restaurants, outstanding wines and a wide range of attractions, but I still believe that the region could be performing better.
"One of the key issues holding the region back is infrastructure. Cessnock Airport needs an urgent upgrade if we are to attract more high-yield groups, international tourists and corporate travellers. The airport should be upgraded to make it capable of handling commercial aircraft. This could open up a whole new access point for the Hunter Valley and maximise the potential of the region's attractions.
"The building of the Hunter Expressway was a positive transport initiative for the region, but with the major market for the Hunter Valley being Sydney, there is also considerable scope for upgrading the route from the M1 to the wine region via Cessnock."
Dr Schwartz praised Premier Baird and the NSW Government for the announcement of a $123 increase in tourism expenditure, including $40 million extra for region tourism, over the next four years, saying that their understanding of the potential of the events and tourism sector was refreshing.
Dr Schwartz added that councils could also play a more pro-active role in supporting tourism development. "We have had a number of major plans for expanding this venue, but we have often found that reasonable requests have taken a considerable time to be approved. Currently, we are looking to install holiday cabins for school groups, but we are still waiting upon approval, despite the region having very little accommodation to support such groups.
"Providing reasons for visitors to come to regional areas needs to be a priority for government support. For instance, the Schwartz Family Company re-introduced the Hunter Valley Wine Festival after an absence of 30 years and it is a very expensive – but worthwhile – exercise in marketing the region. We will move the event to June this year, but we need the support of State and Local governments to help market it to a wider audience."