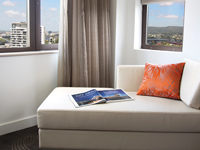 Watermark Hotel Brisbane has been transformed into a sleek, boutique Spring Hill hotel after an extensive, multi-million dollar refurbishment.
This lovely establishment has many expedient attributes, conveniently located in historic Spring Hill and just a short walk from the Brisbane CBD, it is within close proximity to lively shopping, dining, nightlife and Suncorp Stadium. The hotel is perfectly suited to corporate guests seeking great value, quality and a unique, customised experience close to the Brisbane CBD.
The initial brief for the 60-deluxe-room refurbishment from general manager Jason Pratt was to create a design that was fresh, contemporary and worked well with the first stage of the superior room refurbishment that was completed June 2013. Over the past couple of years, the hotel also quietly underwent major renovations in its foyer, restaurant and conference facilities.
Mr Pratt started in the hotel industry in 1994, for Protea Hotels, one of South Africa's largest hotel groups. He has worked for Watermark Hotel since 2011, initially as an assistant general manager in Watermark Hotel & Spa Gold Coast and since March 2014 he maintained his present general manager role at Watermark Hotel Brisbane.
He explained that the design brief was "to introduce a more corporate feel that bordered on a boutique sense of style to give the interior of the rooms a 'wow factor' and to give a sense of style and city".
The refurbishment included the removal of existing furniture, bathroom upgrades, painting, electrical, carpets and placement of new furniture and fittings. Mr Pratt said, "We are incredibly proud of the overall outcome and finally ready to announce the new hotel is officially open for business."
Watermark Hotel Brisbane features 94 rooms and its signature 551 Restaurant and Bar, as well as contemporary conference facilities, undercover car parking and spectacular views of the lush Roma Street Parkland. Guests enjoy LED TVs with digital channels and all rooms feature free wifi that is also available in the public areas.
The guest rooms have coffee/tea makers, and irons/ironing boards, refrigerators and room service to make in-room dining easy, and mini bars that provide refreshments.
The comfortable beds, premium bedding and pillow menus invite a comfortable night's sleep and business amenities include two meeting rooms, a conference and business centre. The guest rooms offer three styles of accommodation and all feature décor and furnishings that focus on ease and relaxation, with the newly refurbished rooms now offering a heightened level of comfort and sophistication.
Hotel Interiors P/L was commissioned to refurbish the guestrooms at Watermark Hotel Brisbane, as a renowned provider of full fit out accommodation solutions from the initial concept and design through to prototype rooms, project management at all stages, delivery and installation, and final clean, Hotel Interiors was the natural choice.
Hotel Interiors has the benefit of being a major supplier of hospitality furniture to hotels, motels and resorts within Australia and throughout the world and specialises in the delivery of custom made accommodation furniture.
Boasting a backlog of experience in providing complete FF&E turnkey to new hotels as well as being highly proficient in the refurbishment of existing rooms, hotels, motels, resorts and serviced apartments.
Hotel Interiors was commissioned for the interior design and concept, colour selection, furniture design, procurement of all the furniture and furnishings, project management, delivery and full installation.
According to Dennis Clark, the founder of Hotel Interiors, after initial meetings with Jason Pratt the general manager at Watermark Hotel Brisbane the furniture designs and 3D renders, were presented prior to the installation of the mock up room.
"The first stage of this project was to furnish 30 hotel rooms and this took a period of four days to complete. In this part of the refurbishment program and schedule there were three floors, consisting of 10 rooms per floor. We took one floor at a time as this allowed the hotel to still operate at a high occupancy," he explained.
The rooms were completely refurbished and that included new carpet, painting, window dressings, and joinery, upholstered furniture, bedding lamps, electrical items, artwork and mirrors. Mr Clark said, "The furniture was designed by Hotel Interiors with longevity in mind."
They have created a stunning atmosphere throughout the guest room by cleverly utilising two-pack black lacquer finishes throughout, including the bedhead with LED strip lighting. The black lacquer and lighting effect crafts an incredibly seductive and relaxing ambience. The desks and tables were designed for optimum comfort and convenience and include a black glass top for extra durability.
The fabrics, artwork and colours selected are "modern, inspirational and very refreshing yet still very tasteful to all eyes with a sense of upmarket elegance". The fabrics chosen are also tough, the designer commercial fabrics for the upholstery are thoroughly tested to ensure a long life, very heavy duty as well as being extremely serviceable and easy to clean.
"The end result is a complete transformation from, what were conservative looking rooms to stunning, contemporary and sophisticated hotel rooms that meet the requirements of both the corporate traveller and the leisure guest. Stage two of the refurbishment will be completed this month," said Mr Clark.
The response from guests has been outstanding with glowing reviews online from guests such as this TripAdvisor review from Wan_2411: "The recently renovated rooms are very spacious, and we loved the shower, need one of those shower heads for home! King size bed was divine."
Dennis Clark has been designing and supplying furniture and furnishings to hotels, motels, resorts and service apartments throughout Australia for well over 30 years. He is well known throughout the industry for unveiling hundreds of outstanding success design and refurbishment stories.
He is once again thrilled with the results achieved at the Watermark Hotel Brisbane: "The exceptional response that we have been hearing from the Watermark hotel guests regarding the refurbishment has been delightful, their stay is now so much more enhanced and guests are thoroughly enjoying the experience of the upgraded designer hotel rooms." Jason Pratt said, "We have always prided ourselves on exceptional, personalised customer service, but now that the renovations are complete we want to place the limelight on the hotel itself."
All at Watermark Hotel Brisbane who speak of this refurbishment are proud to say that the rooms are vibrant, unique and fully represent the hotel's vision for the future.