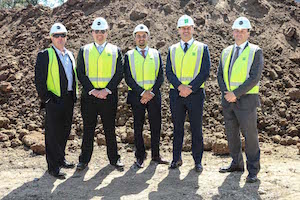 News
Construction underway at Quest Macquarie Park
Construction has commenced on yet another addition to Quest Apartment Hotels' New South Wales portfolio – Quest Macquarie Park – located within the capital city's emerging suburban CBD.
Quest CEO, Zed Sanjana was on-site to inspect the progress of the construction, joined by representatives from Goodman who are developing the property and Vikings, who will be the owner on completion of the development.
"The City of Ryde is anticipating an additional 40,000 jobs to be created during the next 15 years as global companies and industry leaders move into the thriving business centre. It makes perfect strategic sense for Quest to position itself in such a booming corporate centre of Sydney," said Mr Sanjana.