Tips
Unit refurb tips: is your resort looking tired?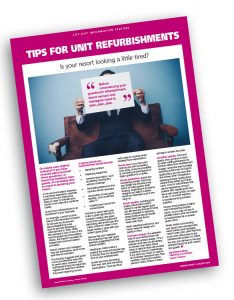 Find out what six things need to be included in a typical guestroom refurbishment, and whether you need to do them.
Resort News published another tips supplement in its last issue, this one addressing the art and necessity of refurbishment.
Simone Rose from Xavier Furniture wages in on guest expectations and how to leverage those with your vision for the design of your property, in her tips submission. Meanwhile, industry reporter Mandy Clarke investigates whether artwork really distinguishes a guest's experience, showcasing a an eclectic yet stunning selection of properties from around the globe.
Want more tips? Send us your requests!